FC Barcelona partners with Chiliz for blockchain-based token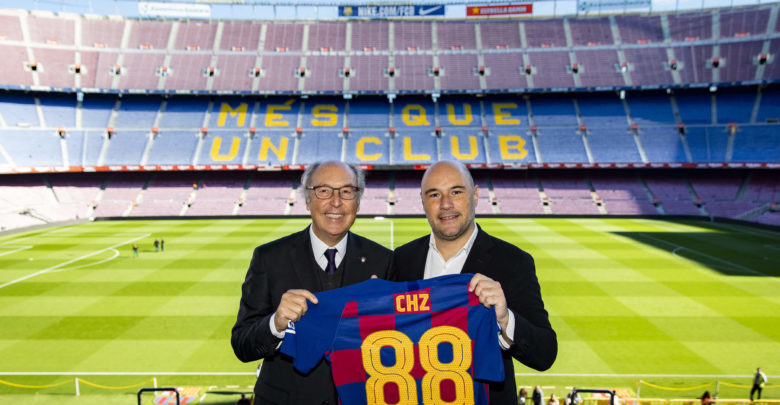 FC Barcelona, a Spanish soccer giant, has decided to enter the blockchain sphere by teaming up with Chiliz, blockchain sports and entertainment fan engagement platform.  
As a result of the partnership, Chiliz created BAR, the Barca Fan Tokens, which can be used by fans in polls and surveys via the voting and rewards app Socio.com. The news of the club's first blockchain partnership comes one week after the club's new digital vision was launched, which is also part of their global expansion strategy. 
How will it work? 
As per the press release, Barça fans will be rewarded for their participation on Socios.com, allowing them to climb up leaderboards and receive reward tokens, which can be spent on merchandise and events. 
The agreement "reinforces its commitment to sourcing the best possible agreements in each category to help Barça to continue to lead the way not only on the field of play, but also in the field of partnerships and sports marketing".
La Liga giant riding the digital innovation wave
Indeed, this move is in line with technological advancements to cater to new customer engagement methods. It's focused on harnessing the client-brand relationship and increasing and fan engagement. 
You may also like:
This is a sentiment expressed in the press release, which reads: 
"The new partnership boosts the Club's commitment to looking to new digital channels and formats for connecting and generating engagement with their global audience."
When it comes to FC Barcelona, ranked as the fourth most valuable sports team in the world according to Forbes, the use of a fan token can make fans feel and become closer to the La Liga players.
The agreement was made official at Camp Nou, by members of the board of directors, the head of the club's commercial area and Chiliz CEO Alexandre Dreyfus. Dreyfus expressed his excitement in welcoming FC Barcelona to Socios.com and talked about blockchain adoption:
 "With over 300 million fans worldwide, Barça's fandom spans countries as well as cultures. The club is, without a doubt the most renowned and the most supported football club in the world, and we can't wait to see their fans start to influence club decisions. Adding FC Barcelona fans to the Socios.com global community takes us one step closer to our goal of mainstream adoption of blockchain."
Barça Fan Tokens will be available by the beginning of Q2 2020. Forty million will be made available, and each $BAR will cost €2 at the initial point of sale. BAR tokens will be built on Chiliz's Ethereum-based blockchain as ERC-20 tokens. However, they won't be transferable to users' wallets and exchanges. Dreyfus explained: 
"At this stage, Barca tokens will be only available on Socios.com and Chiliz.net, our exclusive crypto exchange for sports and entertainment tokens to be launched in Q1."
As covered before by The Blockchain Land, Italian soccer club Juventus, and Turkish Galatasaray also have their own tokens in partnership with Socios.com.