In 2019 the ICO world was firmly put to rest, visible funding to blockchain projects appeared to plummet, and even Facebook's Libra lost corporate support. The trends seemed to die down, putting into question if blockchain was just hype. A much anticipated, blockchain-based, mass-adopted, consumer platform has yet to appear, though there are plenty of contenders in development.
Did blockchain development flounder in 2019? Far from it, R3 chief technology officer and co-inventor of the Corda blockchain, Richard Gendal Brown, says:
"You'd be forgiven for thinking that 2019 was the year in which everything stopped. But you'd be wrong. 2019 was the year of build-out, deployment and testing."
Quietly, away from "public scrutiny," says Brown, companies are "fighting in the trenches to bring their solutions live."
Brown says, "only very recently," has blockchain technology "become ready to be deployed on the scale required to transform the operations of entire industries fully."
Sheila Warren, Head of Blockchain and Distributed Ledger Technology at the World Economic Forum (WEF), says that in 2019, "the focus on blockchain shifted from hype to quality."
Clearly breaking away from its crypto bindings, blockchain technology has been almost entirely reinvented from its Bitcoin beginnings. Although many projects involve tokenization and an exchange of value, blockchain has been evolving into a technology with the potential to underpin numerous business activities and industries.
Brown says, "as we enter 2020, the hard work is about to pay off," particularly for enterprise blockchain developers.
2019 saw an increase in enterprise development, consortium blockchain building, and hybrid blockchains, which the WEF's Warren says are a "great way to increase comfort with the technology." She adds, "it's just a matter of time before something huge gains traction."
Indeed, though Facebook's Libra has its challenges, its emergence with the backing of big names in finance says these corporate giants are ready for blockchain.
Though regulators and governments are putting downward pressure on Libra, the number of countries which seem a little more serious about deploying their own blockchain-based digital currency has grown. And, with or without ICOs, the development of blockchain startups in the gaming, social media, fintech and other consumer-oriented industries is persevering.
So, what will 2020 be for blockchain? Will blockchain begin to solve the business challenges it has promised to for some years? Where will we see tangible examples of blockchain technology in the real world? Let's have a look at 4 main trends we expect will dominate this year's developments.
Enterprise blockchain and hybrid blockchains
Let's start with enterprise and hybrid or consortium blockchain development.
Deloitte's just-released "Tech Trends 2020," includes blockchain as a foundational technology of digital development. Deloitte found blockchain to be a critical technology priority for more than half of its 2019 Global Blockchain Survey participants. 83% of respondents could identify "compelling" blockchain use cases. And, says Deloitte:
"In 2019, the topic of enterprise blockchain discussions shifted from, "Will blockchain work?" to, "How can we make blockchain work for us?"
When it comes to enterprise blockchain development, distributed ledgers are not going to replace central authority. Where companies and industries want to retain control, public blockchains are too decentralized, too slow to update, and also far out of their control. Private blockchain development is insular and doesn't provide the advantages of permissioned sharing between industry participants.
As an enterprise solution, consortium blockchains and hybrid models are often "semi-private," are designed to operate across companies and disciplines, and involve trusted members from different organizations to maintain and govern the network.
As an example, the Blockchain Insurance Industry Initiative (B3i) is developing a blockchain platform for the sharing of information, particularly that which indicates reinsurance risk. The platform allows real-time permissioned sharing, replacing outdated and even paper-based legacy systems. This could lead to faster and easier contract negotiation and risk identification. B3i uses Corda blockchain software, and each insurance industry participants node will be located within its building with data transmitted only directly between the network.
Corda's Brown says in 2019 enterprises put in place "one-time foundational infrastructure," to support their blockchain build-out. He saw leading banks and insurers install and commission enterprise blockchain nodes and use features like Corda's Firewall to enable secure communication with "peer firms across the public internet." Brown adds:
"Enterprise blockchain is about to enter its plateau of productivity, perhaps in record speed."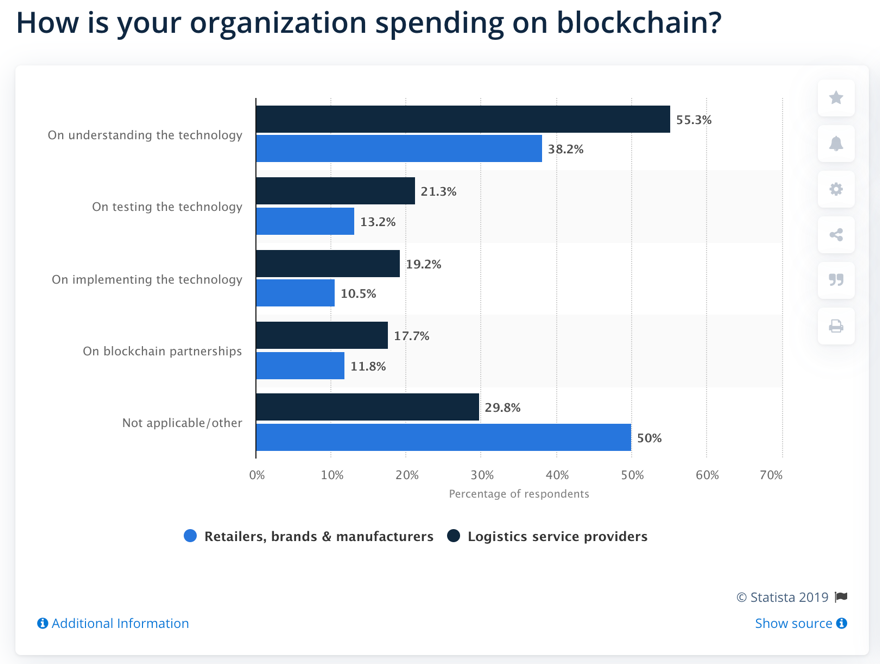 Despite vigorous efforts by many blockchain startups to launch a product or coin that achieves mass consumer adoption, it's enterprise blockchain development that's beginning to disrupt industries. And this is one of the trends set to continue in 2020.
One of IBM's numerous blockchain projects is its partnership with Proof of Trust. This platform aims to validate and add trust to smart contracts and data input, even before the blockchain secures it.
Projects with social impact
Bringing banking to the world's unbanked, internet connectivity to the whole world, right through to tracking charitable donations to the recipient, and consumer goods from ethical origins. Blockchain's promise to improve and bring fairness to humanity and society is as high as its commitment to creating digital assets of anything of value.
The WEF's blockchain head argues, "technology alone simply cannot adequately address social challenges," and that "accompanying policy is essential." The WEF, and its belief in blockchain, is bringing together pilot projects focused on social impact. Though Warren says we "are still a long way," from seeing blockchain's real potential for social impact, it's clear that we'll see more blockchain-based projects oriented towards a social cause in 2020.  The WEF's own government transparency project aimed at reducing corruption in public procurement will be tested in Columbia in early 2020.
In 2018 a Stanford University study estimated that 55% of social-good blockchain initiatives would begin to impact their planned beneficiaries by early 2019. And, it discovered that 20% of such projects are developing a solution they say is impossible without blockchain.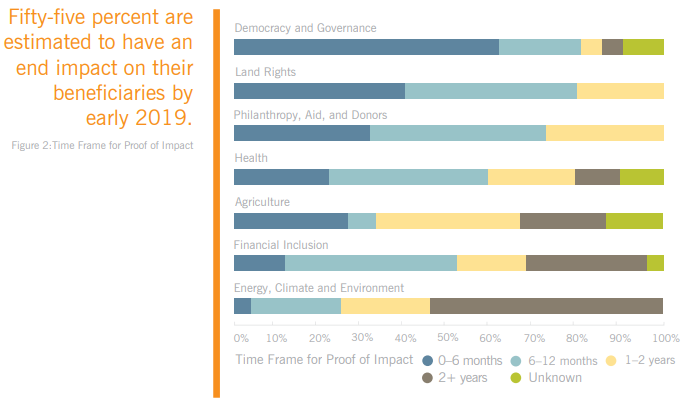 The UNICEF Office of Innovation's Venture Fund has so far made 91 investments in blockchain social impact projects across 58 countries. Chris Fabian, co-lead at UNICEF Ventures, says:
"While there is a great deal of hype around the idea of secure, distributed databases, there are also many opportunities for new organizational efficiencies."
Fabian explains that by using blockchain in Kazakhstann UNICEF is "moving value from donors to companies that we fund in a matter of seconds on these public, transparent ledgers." UNICEF has also just formed a new partnership with Ethereum Classic Labs, which will generate funding for three more social impact blockchain projects.
3. Blockchain for the public sector to provide trust
In Deloitte's latest report it says it's not just the financial sector that is pursuing blockchain but other areas, "notably, government, life sciences and health care, and technology, media, and telecommunications." The WEF's Warren says she expects increased experimentation with hybrid blockchain models in the financial and public sectors. In the latter, "increased use of smart contracts" is expected.
IT consultancy firm serving the public sector, Booz Allen Hamilton says, "public sector blockchain can build trust, protect data, and reduce costs." It reports that "hundreds of leaders in government" have joined the US General Services Administration's (GSA) blockchain working group to share use cases and best practices.
It adds that "excitement around the technology is building," as US agencies begin testing blockchain in public services for anything from payments to identity management. The US Department of Homeland Security (DHS) is also funding blockchain startups that are using blockchain to improve cybersecurity.
Consensys, in November 2019, published a list of government blockchain projects around the globe and it's not a short one. In Canada, blockchain is being tested for transparency of government contracts and contractor CVs. In the US, the Defense Advanced Research Projects Agency (DARPA) is creating a blockchain platform to transmit secure messages between intelligence units and the US Air Force has implemented blockchain in its supply chains.
The UK's Food Standards Agency used blockchain to track the provenance of meat, and Her Majesty's Land Registry is exploring blockchain for land rights and the real estate industry.
China, reportedly, has over 500 registered blockchain projects in development, many of them government-led.
Then, of course, there is central bank reaction to Facebook Libra, with even grumblings that the EU could create a central bank digital currency (CBDC) in an effort to thwart the potential global influence of Facebook in monetary systems. And, China is ready to test its digital yuan.
Besides, social impact projects can only benefit the public sector and some government programs as social goals intertwine.
A European Commission publication in 2019 argues that "blockchain has not yet demonstrated to be either transformative or even disruptive innovation for governments as it is sometimes portrayed. Ongoing projects bring incremental rather than fundamental changes to the operational capacities of governments. Nevertheless, some of them propose a clear value for citizens." It adds that blockchain "needs technological and ecosystem maturity" to unlock "transformative power."
Decentralization for user protection
There's a growing need for data protection and data privacy in our current digital society, both with consumers and with companies. There is a multitude of blockchain projects that promise privacy-centric networks and the self-sovereignty of online data. EOS blockchain creator Block.one is pressing forward with its social platform Voice, for example.
And, blockchain has the potential to improve cybersecurity and thus help to prevent data breaches which continuously expose personal data on the web.
Decentralization, distributed ledger technology, immutable and encrypted networks, provide more capacity to encrypt and protect data than ever before. But, they also need to be built not just to protect data but with individual consumer protection in mind.
The WEF's blockchain head, Warren, writing alongside Sumedha Deshmukh, a blockchain project specialist with the WEF, for CoinDesk, say, "users are not magically protected as technology evolves." This needs "deliberate design." They add:
"As blockchain pursuits move from buzzword to business case, the technology is fast approaching an inflexion point."
In fact, $12.4 billion is estimated to be spent on blockchain development by 2022. So the WEF's Global Blockchain Council is creating the "Blockchain Bill of Rights: Design Principles for a Decentralized Future." It aims to "align private-sector leaders, policymakers and consumers in a fundamental vision of how users can and should be protected as blockchain technology develops."
Will 2020 be blockchain's biggest year?
What on the surface appeared to be a lull in blockchain evolution in 2019, is a sign that quiet, determined, development was taking place.
It will surely disappoint the whole space if a single blockchain-based project doesn't see widescale implementation, or at least begin to achieve mass adoption in 2020. On that basis, at least one project will likely deliver tangible, real-world, scalable products this year. And, this could come from enterprise development of hybrid and consortium blockchains, if not from a blockchain-based game or social platform.
As we become more societally aware, and businesses are expected to demonstrate more than a simple corporate social responsibility (CSR) statement, trends show the growth of social impact projects. By considering progress to this point, even if on a small scale, some should see notable utilisation.
For the public sector, often tailing the private sector in technological progression and digital transformation, blockchain will continue to be investigated. However, given last year's trends, it's likely that governments will take their time to deploy blockchain comprehensively.
That said, China's digital yuan is undoubtedly a development to watch. And, the US defence sector's penchant for blockchain should also be observed with interest. Both countries could attain significant milestones for blockchain in 2020.
Hopefully, underlying all this development will be ingrained data sovereignty and consumer protection, even if blockchain is not quite ready to bring complete decentralization just yet.