New Token Offering Regulations in the Philippines: A Major Step Forward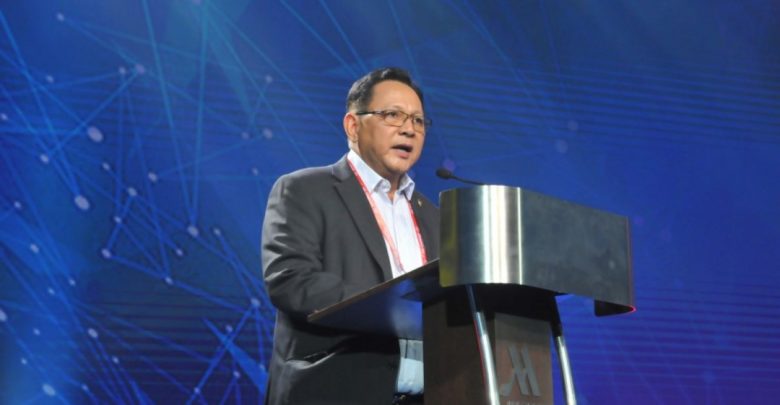 The Philippines have so far not played a significant role in the global blockchain sphere. That may change soon. The government has revealed a set of regulations to boost the digital economy.
The Cagayan Special Economic Zone and Freeport is an economic zone in the northern Philippines. The Cagayan Economic Zone Authority (CEZA), which is regulating the region, attempts to create a blockchain hub by attracting international investors.
To boost what could soon become the Philippine's Silicon Valley, the CEZA has now released a set of crypto regulations aiming at creating legal certainty to regulate and protect investors effectively.
DATO regulations lay out the rules for utility and security token offerings
The so-called Digital Asset Token Offerings (DATO) regulations lay out the rules for the issuance and acquisition of crypto assets. That includes both, utility tokens and security tokens.
Companies that want to issue a utility or security token must provide DATO documentation, including details on the issuer, the project, accompanying advice and certification by experts.
Tokens must be listed on licensed Offshore Virtual Currency Exchanges (OVCE), which have been set up specifically for DATOs. The CEZA has already issued 19 OVCE licenses to various blockchain companies.
All DATO participants must also have confirmed arrangements with accredited wallet providers and custodians. CEZA needs to approve wallet providers and insures digital asset custodians. This way, the regulator can enable proper storage and investor protection.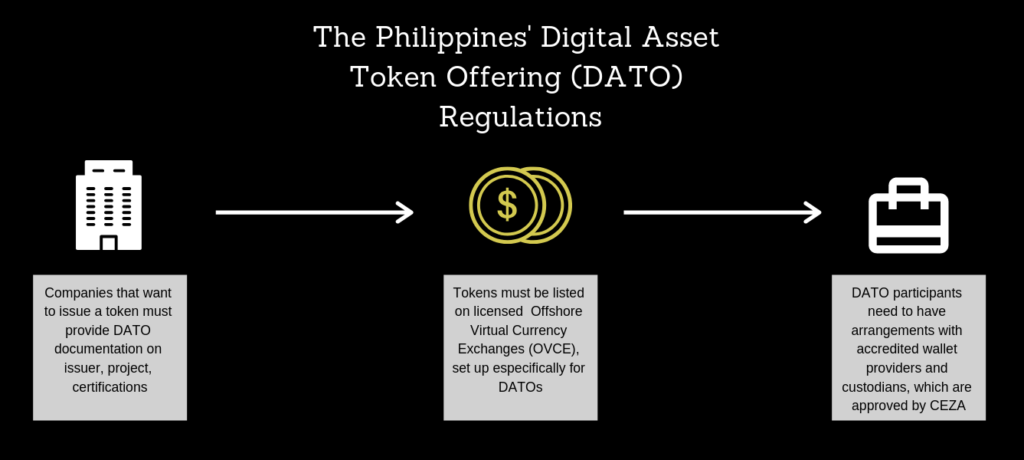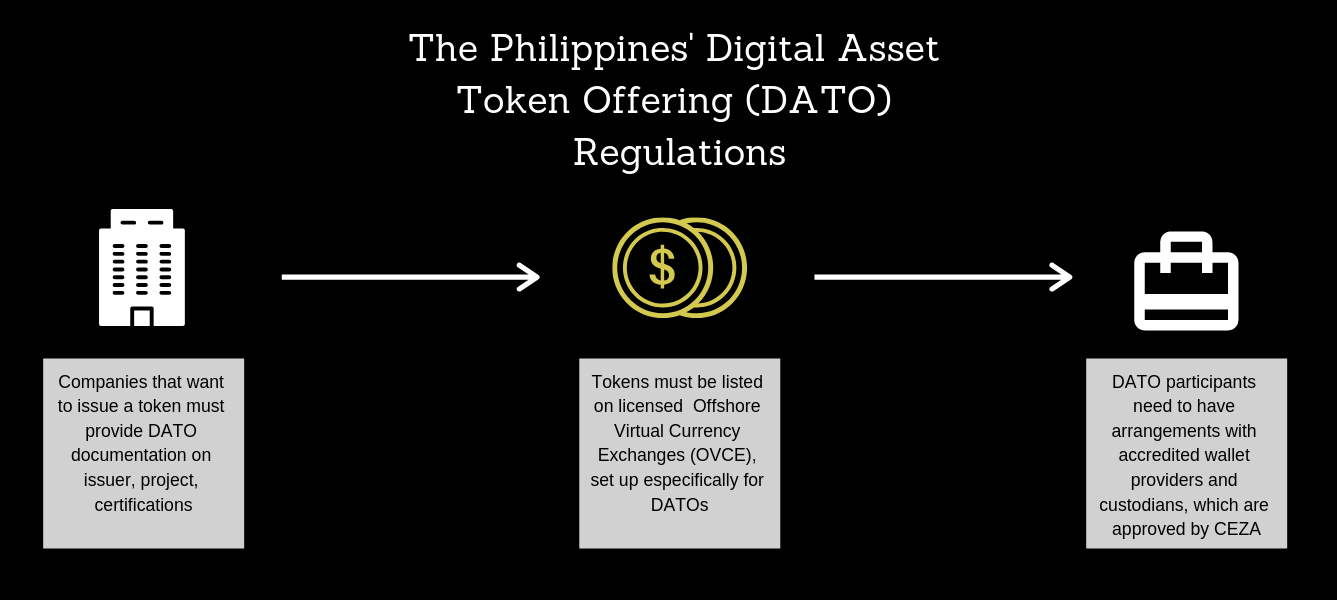 "We do not want the Philippines to be a haven for scammers even if these scams are happening abroad," said Secretary Raul Lambino, CEO of CEZA.
There are three levels of DATOs.
Tier 1 covers assets and investments not exceeding $5 million
Tier 2 involves investments between $6 million and $10 million
Tier 3 covers investments exceeding $10 million
New regulations are considered a positive development
The Philippine's major financial watchdog, the Philippines Securities and Exchange Commission (PSEC), had issued an initial draft for ICO regulations in August 2018. It was stipulated that any company registered in the country looking to run an ICO or sell ICO tokens to Philippine residents would need to submit an assessment request to the PSEC. Even though Philippine lawmakers were calling for a structured regulatory framework for ICOs, the PSEC then declared in January 2019 that it was not ready to issue final ICO regulation.
In September of last year, the PSEC also announced that a new draft regulating cryptocurrency would be released soon. They also revealed their cooperation with the country's central bank, the Bangko Sentral ng Philipinas, aimed at establishing a "cooperative oversight." This set of regulations was expected to play an essential role in defining the country's lead in the fintech sector.
The Philippines have been working on the legalization of digital currency by classifying them as securities since November 2017, and finally they've heard some positive news.
A significant step forward
Thus, with the DATO regulations, the CEZA has now taken a stance in crypto regulations, taking the lead in the industry. "It is our hope that these set of regulatory innovations will take the digital asset sector one step closer to adoption and acceptance by institutions and the traditional financial system," said Secretary Lambino. He continued:
"It is our goal to provide a clear set of rules and guidelines that will foster innovation yet ensure proper compliance by actors in the ecosystem. It is our hope that these set of regulatory innovations will take the digital asset sector one step closer to adoption and acceptance by institutions and the traditional financial system."
The private sector has noticed the positive regulatory developments in the Philippines. IBM has recently published a report on blockchain progress in the Philippines, speaking positively of regulations.
IBM has seen great success in the Philippines. It has for example partnered with Union Bank, one of the leading banks in the country, to create supply chain finance solutions.
The new rules are widely seen as a positive development. Juanita Cueto, Chairperson of the Asia Blockchain and Crypto Association, commented, "CEZA is moving forward with its goal to develop the economic zone as the center of fintech firms in Southeast and Northeast Asia."
The environment in Asia
Overall, competition is tough as Asian countries invest in blockchain and draft regulations for the use of cryptocurrency. Recently, we've covered how Thailand has created blockchain-friend regulations, alongside a robust governmental investment in the blockchain technology. However, there are also nations that are hesitant to accept cryptocurrencies but are open to investing in the blockchain technology.
We are expecting China to announce new crypto regulations this month, after a series of crackdowns on miners and crypto exchanges. However, they are very keen to invest in innovation through blockchain. Similarly, an IT giant has been developing a blockchain-based electricity exchange system in Japan. India isn't too far behind, using blockchain technology in various industries, with the latest being a consortium of 11 banks collaborating to develop a new blockchain platform.
The Philippines isn't the only country in Asia moving forward with regulations, however, this latest move represents a friendly stance and is bound to encourage national and international investment.