æternity's Blockchain To Immortalize Urban Street Art
The Drone Graffiti Project Marks The Start of the Initiative with a Live Art Installation Powered by Blockchain During Mexico City's Art Week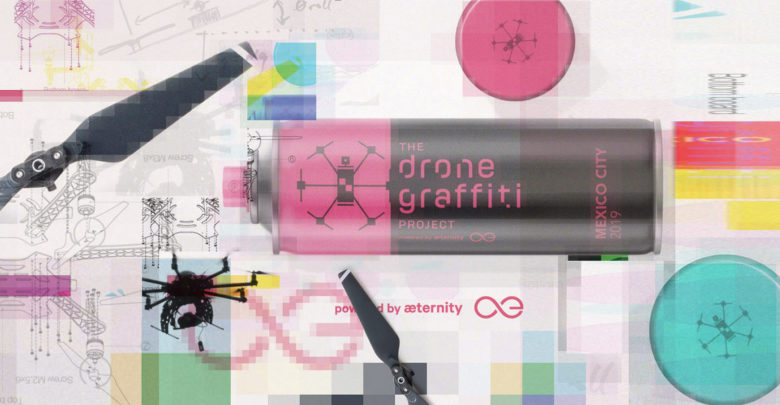 MEXICO CITY – 8 February 2019 9AM GMT – æternity has today announced that their blockchain will immortalize urban street art forever with the launch of the Drone Graffiti Project, a collaboration with a number of leading art studios and tech startups. Coinciding with Mexico City's Art Week February 8 – 10, 2019, a city that when it comes to street art, is up there on the world stage, the Drone Graffiti Project will complete the world's first live urban art installation powered by blockchain.
Cutting-edge technology has been developed that will use drones to spray art on the walls in Roma Norte alongside Latin America's most important art fair. Three artists have been selected to work with Drone Graffiti, including US artist Tom Edwards whose high profile farting unicorn image is not only seen on the screen of Tesla automobiles but is considered a symbol for artists rights in the digital age.
An emerging creative medium, Drone Graffiti embodies the ethos of urban art while offering fresh means of expression with a new aesthetic in places normally physically out of reach for artists, as well as a way for the artwork to be immortalized forever on the blockchain.
Street art is far from static — and often ephemeral, a race against the clock before building walls are ripped down, or detailed murals are painted over by the city or frustrated landlords, where these impermanent works become nothing but a distant memory.  By leveraging core features of the æternity blockchain; public, decentralized, uncensored, transparent, distributed, these works of art can be archived and authenticated indefinitely, while making it accessible to a global audience.
Yanislav Malahov, founder of æternity blockchain and visionary behind The Drone Graffiti Project said: "Urban art has always been a medium for expression, an artistic commentary on the state of the world, a progressive and innovative way to connect via images and words. Urban art also has the tendency to be ephemeral, painted over or otherwise destroyed by the powers that be. So built into the Drone Graffiti Project are ways to make urban art not only unstoppable but permanent and available to everyone, as the art will also be housed on the blockchain."
Building the hardware and software needed for this groundbreaking project were æternity blockchain, Voliro AG, SPH Engineering, DRONEMASTERS and Mexico-based urban art legends All City Canvas, among others.
æternity managed the process of having the blockchain linked to the drones, but having them modified to be able to paint literally anything submitted via an app was the work of SPH Engineering. "To enable a drone to become as the tool for graffiti artists is a technically challenging task, as the drone has to fly near to a wall and the flight path has to create a painting. Compared to other projects where drones are used for swarm management, professional research, or search and rescue operations – the Graffiti drone project provides the opportunity to be a part of a one-of-a-kind project where the technical management of the drone's flight path has to create art," said Janis Kuze, from SPH Engineering.
Blockchain can produce a verifiable digital identity for urban art that would be retained for eternity. Since all relevant information pertaining to that piece of artwork is easily accessible, it will put an end to the risks of fraud (Is that Banksy really a Banksy?) and tokenization offers immense opportunity for street art become highly valuable in the future.
For more information, please contact
Cryptoland PR for æternity
Olivia Jarman
US: 866–586–5603
UK: +44 020 3908 5686
About The Artists
TOM EDWARDS (American)
In 2017, Elon Musk posted a direct copy of Tom Edward's artwork on Twitter: a line drawing of an electric car being gassed by a farting unicorn. This graphic had just been uploaded to the screens of Tesla automobiles, but Tesla Motors had not gotten Tom's permission to use the artwork. One year later, Tom sent a letter to Tesla Motors which was ignored so Tom went to the press. Tom's daughter, Seattle musician Lisa Prank, took the debate directly to Elon Musk via Twitter and a lively battle of wits ensued.  A slew of tweets later, news sources from around the world were covering this story and Tom had definitely gotten the electric car company's attention. In the end, Tom reached a settlement with Tesla without having to go to court. Edwards' farting unicorn is now a high profile image embodying art and tech and a symbol for artists rights in the digital age.
SMITHE (Mexican)
For Smithe, art is a form of communication – a way of abstracting feelings. His work varies from colorful and cheerful subjects to acid themes rendered through a rather gory tone. Defragmentation recurrent in his work is a symbol used to show elements of the power within his characters which are depicted as surreal machines.
MR. KONE (Mexican)
Mr. Kone is well known Mexican designer, art director and illustration artist with more than 15 years of experience. He has done large murals, illustrated numerous magazines and children's books – work that led to him being selected to create designs for international brands such as Nike, MTV, Coca-Cola, Sony-BMG, Cartoon Network, Nickelodeon, Adidas, and Mini Cooper, among others. In 2011, Mr. Kone received the Cannes Media Lion Gold Award.
About The Drone Graffiti Project
About æternity
æternity is a public, open-source, blockchain platform offering means for a decentralized future realized by a global community. Blockchain inherently has the disruptive potential to support distributed wealth and transparency in power structures. æternity's founder, Yanislav Mahalov, has roots as the "Godfather of Ethereum" – but wanted to improve the core idea and technology proposed by that project to become the blockchain which decentralized applications are built upon. æternity aims to solve problems of scalability, security, be more economical, and user-friendly when it comes to accessing the smart contracts on the network. They see a route to achieve this by moving the contracts off-chain. æternity's 3 main ideas are State Channels, Consensus Mechanism, and Decentralized Oracles. For more information, please visit: 
www.aeternity.com
SPH ENGINEERING (SOFTWARE, HARDWARE + OPEN SOURCE)
SPH Engineering is a leader recognized in the industry for unleashing the power of Unmanned Aerial Systems (UAS). They specialize in UAS integration: building, acquiring and consulting on the selection of airframes, autopilots, payloads for a particular application and performing proof of concept projects and software development. Globally known software include survey mission planner UgCS and Drone Show Software to manage outdoor light shows. For more information, please visit: www.sph-engineering.com
VOLIRO (SOFTWARE, HARDWARE + OPEN SOURCE)
Voliro is a Swiss based aerial robotic company that features innovative drones design to perform complex tasks that require flying in vicinity or in contact with 3D structures. The special design of the drone makes Voliro aerial robots versatile in many applications such as contact-based inspection, spray painting, coating and cleaning. Voliro's technology has been developed at the Swiss Federal Institute of Technology (ETH) in Zurich. For more information, please visit: www.voliro.ethz.ch
DRONEMASTERS
DRONEMASTERS is a cross-industry platform for vertical mobility. DroneMasters Boost serves as an incubator to enable the faster development of sustainable solutions. The DroneMasters Academy focuses on education and training, and DroneMasters Venture invests in start-ups. For more information, please visit: www.dronemasters.com