Stablecoins Thrive as Supply Surges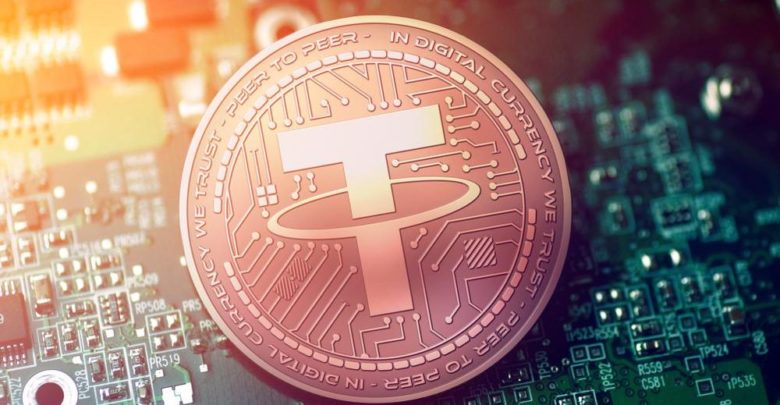 There is now over $10 billion worth of stablecoin assets in circulation. Cryptocurrency traders appear to be increasingly choosing stablecoins as the digital currency for their exchange activity.
As per data from Coin Metrics and a report by CoinDesk, stablecoin assets in circulation grew in volume by 70% over two months with much of the increase attributed to the stablecoin tether. CoinGecko says the largest centres of tether trading activity are the cryptocurrency exchanges Binance and Huobi, both based in Asia and both offering hundreds of cryptocurrency trading options.
In the past, cryptocurrency traders had mostly used bitcoin as their base trading currency to exchange for a myriad of other cryptocurrencies. Ether has also been a popular cryptocurrency of choice to price other tokens. However, in the last two years, that trend has changed to traders using stablecoins to trade against altcoins.
CoinDesk and Nomics put altcoin trading volume generally as increasing, whereas ether and bitcoin trading remains below the peaks of these coins in 2017. Specifically, tether trading volume has significantly boomed since January 2020 as per the following chart.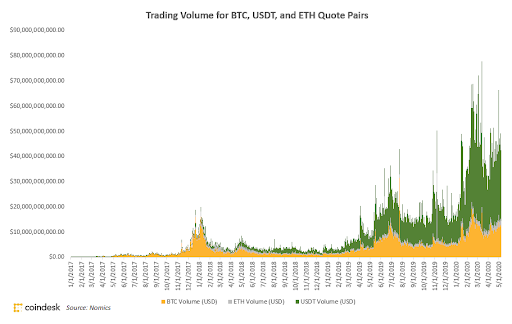 Stablecoins have been created to give cryptocurrency users a less volatile asset. They could open up cryptocurrency usage to a broader audience by providing a coin with more price stability that can be used more reliably to purchase goods and services. At Bitcoin's peak in 2017, its volatility likely deterred retail and mainstream consumer markets from widespread adoption.
Aditya Das, a cryptocurrency markets analyst at Brave New Coin, says: "Stability means traders feel safer holding a stock of it and using it as a liquidity tool for trading."
Tether, like certain other stablecoins, is backed by USD reserves. BitMEX head of business development Greg Dwyer says it has noticed that "traders prefer to trade pairs with USD-like denominations as dominance for altcoin trading." And Binance CEO, Catherine Coley, says traders now "think in dollars and trade with stablecoins."
On May 12 tether surpassed the market capitalization of Ripple's XRP to become the second-largest altcoin next only to ether, and the third-largest cryptocurrency. However, XRP did quickly regain its place with an increase in trading activity.
Tether's market capitalization now stands at $8.8 billion, as per CoinMarketCap up from just over $4 billion at the start of 2020. In November 2019 Tether issued a statement confirming that "all Tether tokens are fully backed by reserves," pushing back against longstanding questions as to whether tether indeed holds one-to-one reserves for each tether coin in circulation.
READ: A Review of the Bitcoin Halving: Not What Many Expected