Sweden Moves Towards Being Cashless
Is there a chance for cryptos?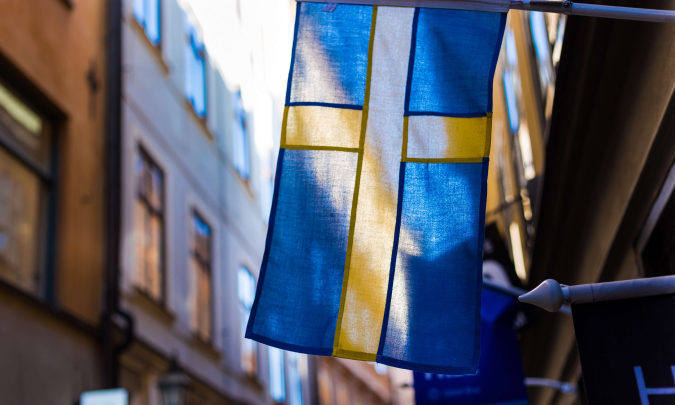 As Sweden is quickly moving towards becoming a cashless society, Sweden government is now concerned that this might impact the banking infrastructure.
According to a report by the New York Times, half of the country's retailers are of the view that Sweden will likely stop accepting cash by the end of 2025.
The use of cash in Sweden is declining at a rapid rate. Although 63% of Swedes have agreed that they had paid in cash at least once during the week in 2016, this number dropped to less than 25% during 2017, according to a survey conducted by Bloomberg. According to BBC, cash is used in less than 20% of transaction in stores.
Stefan Ingves, the governor of the Swedish Riksbank, the central bank of the country, in a statement given to Bloomberg said,
"The Riksbank is carefully analysing this development. Overall, I think we are facing structural changes in areas that have previously been stable. This is a development which will affect all the Riksbank's departments, and we will need to make strategic decisions regarding the way forward."
Making Way for a Cashless Society
Sweden is preparing itself for the creation of a cashless society within the next decade.
In the words of Ingves, "When you are where we are, it would be wrong to sit back with our arms crossed, doing nothing, and then just take note of the fact that cash has disappeared. You can't turn back time, but you do have to find a way to deal with change."
A lot of people have even gone to the extent of implanting microchips in their hand to be able to pay for food and transportation with just a simple feature, as reported by NPR.
This trend is particularly famous among small-medium businesses, with coins and banknotes banned on buses, and even tourist attractions are adopting plastic-only payments. It has become common to find notices such as the one below on coffee shops, restaurants, and other service-related businesses.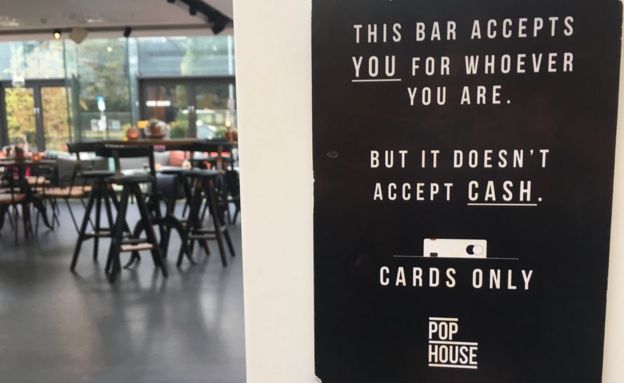 The Available Technologies Make it Easier To Go Cashless
From sending money to someone else through an app using only a mobile number, to home-grown technologies such as iZettle, the Swedish startup that was behind Europe's first mobile card reader, the Swedish are very keen to go cashless, be it for practicality, safety or efficiency.
It is worth mentioning here that the Sveriges Riksbank is already in the process of testing a digital currency called the e-krona. According to the bank, it has been challenging to promote a safe and effective payment system when cash is no longer used. Therefore, the e-krona project, which began in the spring of 2017, intends to examine how the bank could issue a central bank digital currency (CBDC).
Mats Dillen who is the head of a Swedish parliament committee told the New York Times that the complete disappearance of cash from the society might have serious implications.
He believes. "We need to pause and think about whether this is good or bad, and not just sit back and let it happen. If cash disappears, that would be a big change, with major implications for society and the economy."
In the midst of the unknown that issues out of a cash-less society, financial authorities are hesitant of the future and are keen on performing reviews of the monetary policy framework. With that in mind, the central bank has asked all banks to keep handling cash and coins "until the government can figure out what going cash-free means for young and old consumers."
The Riksbank mainly welcomes the Riksbank Committee's proposal to impose an obligation on most major banks to offer access to cash services throughout Sweden. But the Riksbank wishes to go a step further. "It is our opinion that all banks and other credit institutions that offer payment accounts shall be obliged to handle cash", says Governor Stefan Ingves.
The move to digital cash can be seen as a reflection of a dominant trend, however, while it may reflect a high vote of confidence between the state, which provides a guarantee of the value of money, and the people, it has also caught the government off guard, as they didn't expect such a fast transition.
A Trend Common in Asia
Going cashless is a trend prevalent in Asia as various countries including China, Japan, and South Korea are walking a similar path.
Talking about South Korea and Japan, this declining interest in the cash has led to an increase in demand of cryptocurrencies like Ethereum and Bitcoin. That said, the two countries have emerged to be the second and third largest cryptocurrency markets in the world and also serve as a home to various cryptocurrency exchanges like bitFlyer, Bithumb, and Upbit.
Where does crypto come in?
How can the steady decline of fiat currency allow for a transition to crypto? Sweden still proves to be an interesting market, as the blockchain technology can prove to be quite useful to keep transactions secure and quick, while allowing the government to keep control over its monetary policies.
While the skepticism surrounding cryptocurrencies is fading, governments are launching themselves into their own digital currency, as we've seen. E-krona is also a case, as it is an initiative backed by the government that provides trust and a revolutionized way to deal with traditional transactions. However, it is differentiated from cryptocurrencies, by the central bank, since crypto-assets "are not money is that these assets lack an official issuer and do not function like a normal means of payment."
However, Risbank was on the news earlier this year as they received proposals for technical solutions for the e-krona and among those proposals were IBM, IOTA Foundation, Accenture and Visa. While the central bank has positioned themselves against cryptocurrencies, they are definitely looking to use the technology.
Despite the mistrust, these technological alternatives are becoming the choice of many. As the country moves towards being cashless, and as the consequences of a cash-less society are felt, the chances are high that Sweden could emerge as a major cryptocurrency market if appropriately supported by the government and investors, and favourable regulations.