Back in May we published an article covering what we knew to that point about Facebook's secretive cryptocurrency project, Libra.
Libra is Facebook's cryptocurrency project, composed of 28 members and investors, such as Spotify and Uber. Based in Geneva, the Libra Association is a non-profit organization of which Facebook will be one of the founding members. The project aims to solve the current issues surrounding cryptocurrencies, proposing low transaction fees, and a significant transaction volume, as well as a monetary value based on cash reserves. This way, Libra wants to give access to currency in the developing countries, where a big part of the population is unbanked.
What's happening today?
From regulatory backlash to members' skepticism, Libra has been going through a political rollercoaster since the announcement.
Regulatory push-back
Regulators could well hold Facebook's Libra launch back, concerned over the social media giants already substantial societal influence. They also presented worries that the cryptocurrency could be subject to fraud, money laundering, and cause damage to today's fiat and sovereign currencies and their underlying monetary systems.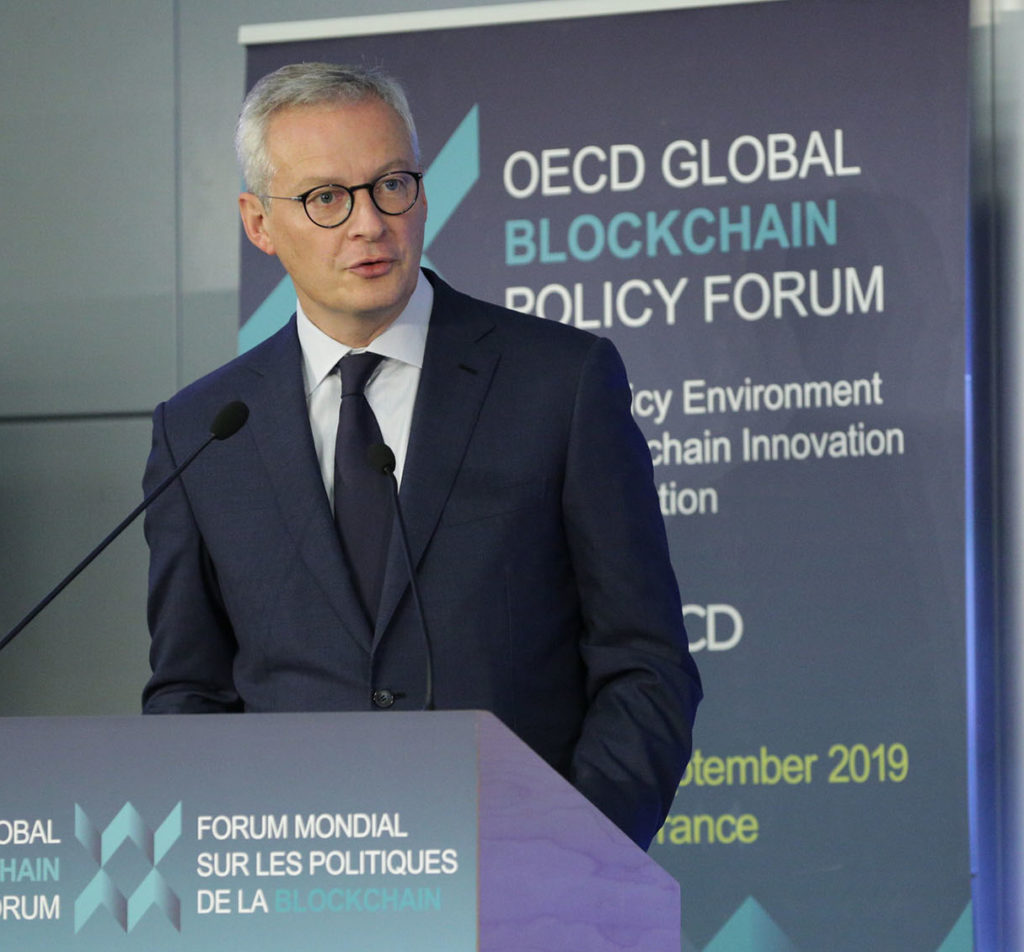 French economy and finance minister Bruno Le Maire has threatened to block Libra's development in the EU saying it threatens "monetary sovereignty." And, he's suggested Europe should even consider launching its own digital currency.
Germany is fighting back against the potential for private companies, like Facebook, to launch their own currencies. Its finance minister said he would reject a "parallel currency" like Libra.
Switzerland, however, appears to be keeping a more "open mind" on the project as long as it operates with transparency and equivalent regulatory compliance.
A  Group of Seven (G7) Committee presented their recommendations on stablecoins. The commission declared that stablecoins such as Libra present an important risk to the global financial system, but it remains a potential payment system.
Away from Europe, US banks, members of the Federal Advisory Council (FAC), have warned a Libra cryptocurrency could create a "shadow banking" system outside of regulated markets reducing liquidity and threatening traditional payment models and monetary policy.
Project Libra backers get cold feet
In September it emerged that PayPal was cautious over the project, following rumours of other potential withdrawals. Investor relations vice president Gabrielle Rabinovitch called PayPal's membership of the consortium "non-binding" adding:
"Obviously, I think there's a lot of work to happen before we get to that point where it [Libra] becomes something more than just a very exciting idea."
Despite this PayPal left the Libra consortium, as have Visa, Mastercard, eBay, Stripe and others.
The first official meeting of the Libra Association took place on October 14, in Geneva. 21 of its original 28 members signed a currency-management consortium. Facebook says it's had 1,500 organizations express an interest in joining and that 180 meet eligibility criteria. This could help Facebook meet a 100-member target before a planned launch in the latter part of 2020.
An analysis of Libra's blockchain – will it shed some light on the ongoing debates?
The Blockchain Xdev, a company specialized in technological consulting and the development of blockchain solutions, based in Paris, published an analysis of the technology underlying the cryptocurrency Libra.
More precisely, the study's objective was to analyse the main risks relating to the choice of the architecture and of technologies adopted in the project. The risk analysis was conducted following the main criteria in the evaluation of a blockchain technology. They include:
Governance: management methods of access conditions, usage and evolution of LIBRA by its members and users
Performance: capacity in terms of number of transactions by second
Confidentiality: capacity of guaranteeing the confidentiality of transaction data, of private or sensitive nature
Identity management: management of users' anonymity
Security: protection mechanisms against cyber attacks
Maturity: stability and reliability through time. Feedback on experience of using the deployed technologies
Risk analysis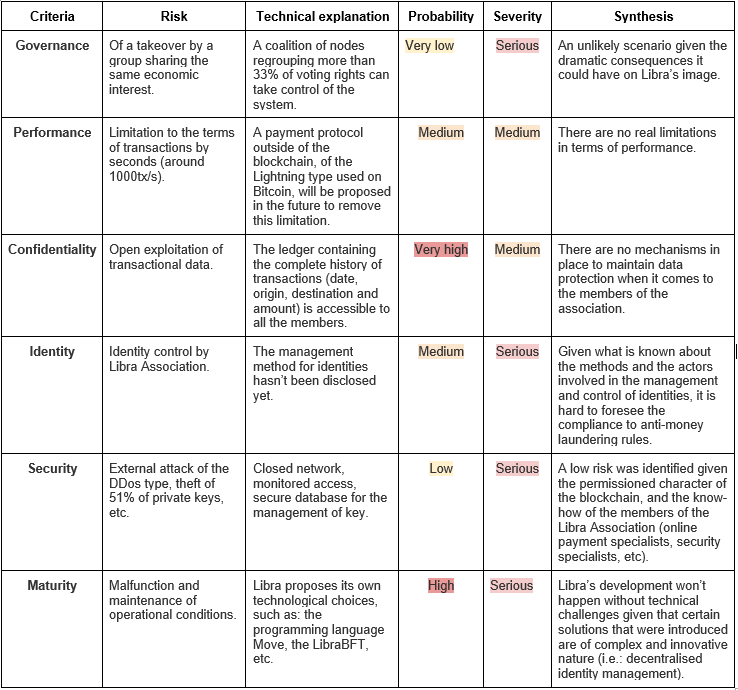 Study's results
From a technical point of view, the Libra project gathers the most important architectural choices that enables them to answer to the main issues relating to cryptocurrencies. These entail performance and security issues associated to solid governance mechanisms, promoting a wider adoption.
One can, however, identify a design that currently doesn't guarantee the confidentiality of business transactions of private or sensitive nature. To conclude, the relative maturity of certain technologies adopted entails strong risks of inducing technical error with relatively serious consequences during the deployment phase.
In conclusion
The goal was to give a technological point of view of the project's key aspects, such as the data management and confidentiality, and governance. By doing so, it enables a first-hand view of Libra's blockchain, which in turn may shed some light on the issues currently being highlighted by regulators.
When it comes to regulatory resistance, it has proven to be impressive and effective. But none of this means that stablecoins or similar projects will never take off. All signs point to a cliff hanger that suggests governments will have to embrace them – or compete with them. Last week, Rob Kaplan, the Federal Reserve Bank of Dallas President said that, sooner or later, "somebody's going to figure out how to do this."
Things remain chaotic in Libra's early phase, but its undeniable that its been a driver of momentum, spurring international debate on the topic and driving business interest around digital money.