Enterprise Tokens Predicted To Grow Rampant in 2019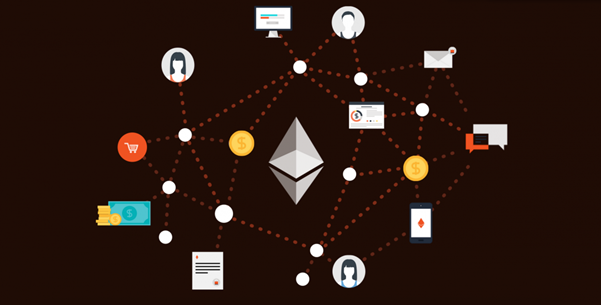 While most of the world's media and investors have been focusing their watchful eyes on cryptocurrency price performances, something else has been happening in the world of blockchain technologies that most of the world's community appears to have overlooked.
Whether anyone likes it or not, blockchain technologies are here to stay. They will not disappear but instead, develop. The only step that needs to be taken now is deciding just which startups are going to be the Facebooks or Googles of the Blockchain over the next 10 to 20 years.
Blockchain Tech Success Should Not Be Judged on Price
Falling cryptocurrencies prices have led many to say that 'the blockchain is dead'. However, those that believe this is true are merely judging the entire concept of blockchain technologies on price and not advancements of blockchain technologies.
We only need to look back at the dot-com crisis in the nineties, and a similar pattern has emerged. When the overpriced stocks slumped bringing the financial world to its knees on a global scale, everyone wrote off the World Wide Web. However, fast-forward today and look what has happened!
Facebook came out of nowhere, Amazon, eBay, Yahoo, Google, and a whole list of dot-coms that went from zero to hero. Those that still believed invested these companies and are still reaping the rewards.
Just like dot-coms, blockchain technologies have seen their fiat/crypto pairs diminish in value over 2018, and just like dot-coms, those that know very little about blockchain techs are using price declines to conclude that blockchain technologies are on their way out the door.
Instead, We Should Be Focused On How Blockchain Solutions Progressed in 2018
In a recent article by Ajit Tripathi on Coindesk, a partner in Consensys, he left many confused. The confusion is understandable. 2018s huge drops in cryptos like BitCoin and Ether will understandably dishearten those that are not overly blockchain savvy or are maybe too young or not clued into what happened during the dot-com era.
However, Ajit Tripathi makes a good point saying that 2018 was, in fact, a successful year. It saw the introduction of an array of enterprise solutions and apps that have helped organizations in both the private and public sectors improve their efficiency.
He says that Open Law was one of the best apps released in 2018. This is a legal application that speeds up the legal process gives people access to legal documentation at the drop of a hat, and helps both the general public as well as businesses save huge sums won legal fees.
In addition to this, the release of the VAKT blockchain based platform used for physical commodity trading. Komgo which is a commodity trading platform that works in conjunction with VAKT as a trade finance platform. Both of these apps were developed from start to finish in 2018 on the Etherium platform.
Of course, Ajit Tripathi mentioned Kaleido as it was ConsenSys engineers that used to work for IBM that brought the system to life. The application means that those that want to release an enterprise ethereum-based app can deploy their system on an industrial scale using the Kaleido one-click concept.
Although the IBM food tracking app was not mentioned on Ajit Tripathi list because it is not an Ether based app, this is another app released in 2018 that is worth a mention.
It means that now the general public or whoever is receiving the food at the end of the supply chain can know precisely where it came from. It is a tracking system that could put an end to unethical practices such as corruption and bribery in the supply chain that brings food to our tables.
It Is True Many ICOs Are Suffering From 2018s Decline
When blockchain technologies first came out, and there were thousands of start-ups with inflated prices, let's be honest, very few really understood how this new tech industry worked. We saw early adopters of Bitcoin suddenly get rich overnight over 2017, which of course caused the crypto boom.
The problem is that not many of these new ICO start-ups knew much about how blockchain technology worked. Yet alone whether or not their solution would blossom into the OpenLaw and Kaleido platforms that will most certainly make a positive contribution to society today.
Unfortunately, many of these ICOs ran out of investment, and fund rounds become stale. There are still some that have survived, but according to Ajit Tripathi, these start-ups are well below their starting valuations.
Tripathi mentioned that "86% are now below their listing price; 30% have lost substantially all value. An investor purchasing a portfolio of The Class of 2017 ICOs on 1 January 2018 would most likely have lost 66% of their investment. Of the ICO start-ups, we looked at from The Class of 2017, only 29% (25) have working products or prototypes, up by just 13% from the end of last year."
However, on the positive side, those that have survived have come a long way. Once again, we have to look back to the dot-com era. Some of the companies were wiped out while some survived and have built themselves up into corporate giants, and others joined in after the crash and learned from past mistakes to join the dot-com survivors such as Adobe Systems that are now some world's largest dot-com bands.
It Is The Era of Enterprise Tokens Instead of Cryptocurrency Prices
As you may have already fathomed from all of this, Ajit Tripathi is saying that it is not price that we should be looking at right now. It is the benefits that blockchain technology is giving back to society.
Just because price declines have created contagious negativity amongst those that did lose on their investment, and those that didn't invest say 'I told you so' are relieved they did not miss out, it does not mean blockchain tech is gone. It is not these people to decide whether blockchain technologies are buried.
Probably one of the best points Ajit Tripathi made was about Ether. How it still has a thriving community despite its price decline. These people are still in the Ether community because they still believe Ether is bigger than simply its cryptocurrency price.
Tripathi said "The way to get to a whole range of killer apps is to unleash the creative power of developers, enterprises, investors and other agents of society. That to date has been ethereum's singular achievement".
He went onto to commend Ethereum's network for its development team's ability to adjust its framework in the face of problematic issues such as the one caused by CryptoKitties after the game crashed the Ether network.
With Ethereum's set up, new ICOs can come in and try their app idea. It means that one of these apps is bound to succeed, and as we have seen in the examples mentioned above, such as the OpenLaw App, VAKT and Komgo Kaleido the concept is working.
It has meant changes to the Ether network has affected token prices, but the price increase is not always the ultimate goal and does not help the evolution of blockchain tech, which is why Ajit Tripathi has predicted the era of enterprise tokens is upon us.