Canada's TD Bank Are Cautious About Cryptos
But they are optimistic about blockchain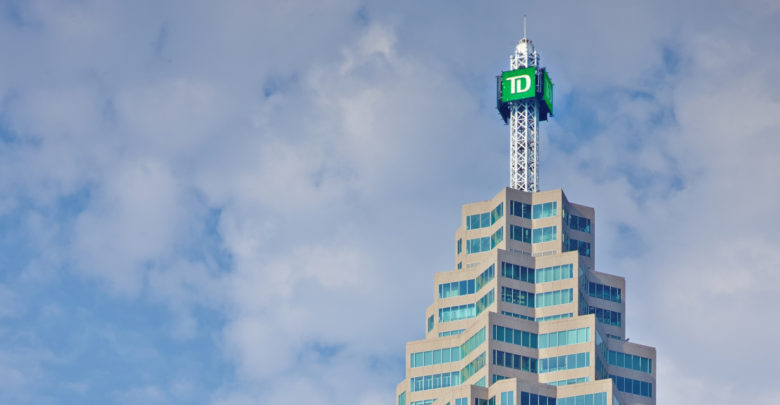 Toronto-Dominion Bank (TD), the Canadian parent conglomerate of one of the largest banks in the United States, is dismissing a future for bitcoin as a viable currency, but it's confident that blockchain technology will have a future.
Executives at TD said to the Globe and Mail last week that the bank is not prepared to dive headfirst into investing in bitcoin, or any other cryptocurrencies, for that matter.
Such a statement is not out of the ordinary coming from a commercial bank. We have examples such as Bank of America, has expressed caution over investment in cryptocurrencies – which they have perceived to be erratic, risky investments compared to what would usually be found in their portfolios. Also, the European Central Bank has declared that they have no plans to issue cryptocurrencies in the future.
TD's expression of skepticism over bitcoin as an investment option may come as a surprise to many readers. Analysts are now predicting that bitcoin's decline is about to end at around $6000, with its price soon to bottom out. That means that bitcoin investors may be about to make some relatively decent returns if the cryptocurrency makes a strong comeback any time soon.
However, TD banking officials are probably trying to avoid bitcoin and other cryptocurrencies because of their immense susceptibility to having their values manipulated by the power of marketing and trends, rather than sheer utility.
TD's blockchain ventures date back to 2016
Blockchain technology, on the other hand, is more appealing to the bank for its utility and cross-industry practicability.
The bank has expressed particular interest in exploring blockchain over the past two years. TD was the first Canadian bank to join the Chamber of Digital Commerce in July of 2017. The Washington D.C. based chamber is a global trade group that aims to promote the adoption of blockchain technology. The chamber's public policy advocacy focuses on demonstrating blockchain's capacity for expediting transactions and making them more secure.
TD has had a patent registered with the US patent office as far back as 2016. The patent was submitted to protect a blockchain-powered point-of-sales system that they likely already have in the works, or at least the bank wants to own intellectual property regarding blockchain P-o-S innovation.
In April, it came out that the patent may be used to create a public distributed ledger to help P-o-S computers track transactions. However, there still has not been any news as to what concrete developments the patent might lead to.
If anything, it seems clear that TD, like other commercial banks, will not be ready to embrace cryptocurrencies like bitcoin any time soon. On the other hand, though, the bank is clearly in the process of embracing blockchain technology.