F.C. Rimini 1912 Bought With Quantocoin
Quantocoin and Football - Again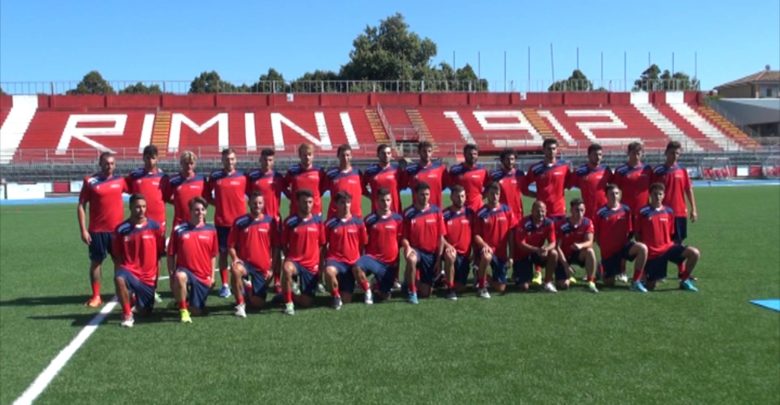 According to Forbes, Italian third division football club, Rimini Calcio, sold 25% of the ownership to the Gibraltar-based blockchain startup Quantocoin for cryptocurrencies.
Quantocoin Startup is Heavily Involved in Football
This is not the first time that Quantocoin was involved in connecting football and cryptocurrencies.
Earlier this year, the same cryptocurrency startup started working with Gibraltar United Football Club to enable the club to pay players' wages in cryptocurrencies.
The deal was made possible by the partnership the company has with the club's owner, Pablo Dana, who invested in Quantocoin startup preceding the partnership deal.
Who is Pablo Dana?
Pablo Victor Dana is a co-owner of Quantocoin and Heritage Sports Holdings (HSH) and the CEO of Heritage Wealth DWC in Dubai.
He is a business consultant for the several international banking and governmental institutions and was the initiator of the AC Milan deal with Asian investors, followed by the Olympique de Marseille deal, where he directly represented the investing parties.
He is considered to be one of the world's leaders when football acquisitions are concerned and is collaborating with some of the superstars of the sport.
His HSH reportedly acquired Gibraltar United in partnership with a retired Real Madrid star, Michel Salgado.
What is Quantocoin?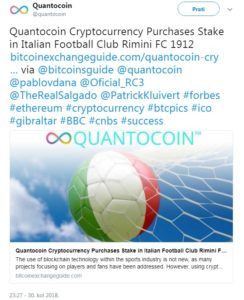 Quantocoin is a startup which already raised $11 million to fund the "next-generation model for the future of financial services and digital banking" in a crowdfunding campaign which lasted from the start of the private sale on November 18th, 2017, until February 28th, 2018.
Their official website claims that they are going to solve the banking problems for 3,8 billion people with broad adoption of cryptocurrencies.
"Quantocoin is a platform for the future of funding that is built on top of the Waves blockchain. It accelerates the growth of unbanked people by offering tools and services that save both time and resources," claims the company.
How Does it All Add Up?
Considering Mr. Dana's business background and connections, it isn't at all strange for the entrepreneur of his caliber to explore new business possibilities.
However, we have to admit that it is a bit strange for a company who claims to be developing solutions for 3,8 billion unbanked to go around shopping for lower league football clubs in cooperation with a (fully banked) middleman for also banked wealthy Asian investors.
Investors who put their trust in the Quatocoin project haven't announced their opinion about the company's business side deals and acquisitions.
And even if they were strongly opposing Quantocoin's newly found interest in football, they couldn't be able to do anything about it as the Quantocoin's respective token hasn't reached the exchanges yet (read: crowdfunding investors haven't had the chance to sell it and get out of the project if it takes a U-turn).
Nevertheless, the connection between cryptocurrencies and football seems to be strengthening by the day with the likes of eToro's partnership with seven English Premier League clubs, Arsenal's deal with CashBet, and CoinDeal's Wolverhampton sponsorship.
Will we see the next commercial where Europe's player of the year, Luka Modrić is paying for ice cream with Qash?
I guess we'll just have to wait and see.
Did you find this article helpful? Don't hesitate to share on Facebook and LinkedIn to let your network know!