Bitcoin Back in Motion – Set to Break Old Records?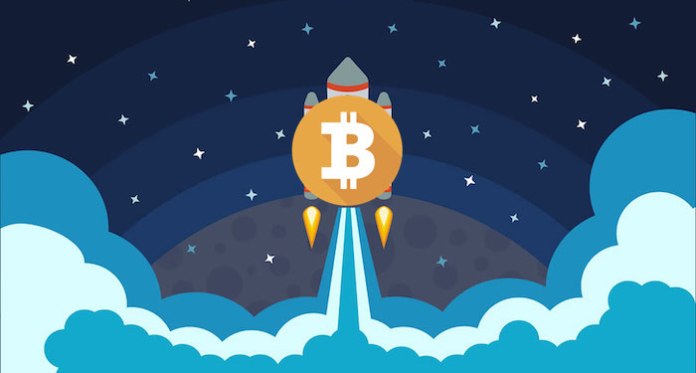 Don't write off Bitcoin just yet. The original cryptocurrency is back in the game, hitting the $12,000 mark yesterday. Having gone through a low period after hitting the $20,000 mark in December 2017, it's once again looking in the right direction.
BTC's trajectory
November 24, 2018 marked the beginning of Bitcoin's latest low period. It fell to $3,778 and continued to languish below $6,000 for most of 2019, disappearing from headlines as investors gradually lost interest in cryptocurrencies.
Its last downward trench reached $3,399 at the beginning of February, before definitely reversing.
The BTC bull market began in April, and since then we've seen peak-and-trough cycles, steadily rising to $8,721 on May 29th.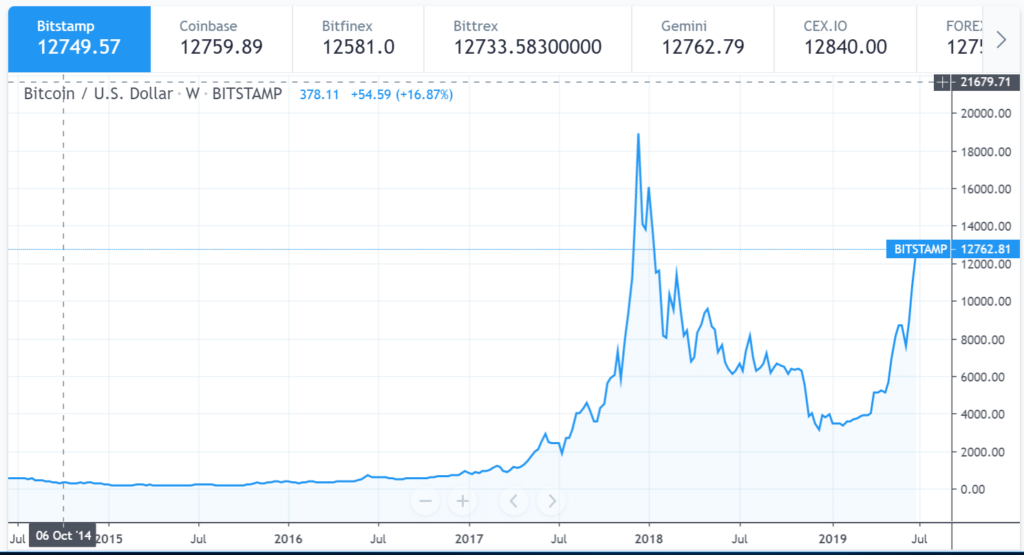 Investors seem to be excited, but what's causing this price hike?
We shouldn't give all the credit to Facebook's Libra
We talked about Facebook's digital currency, called Libra, and how it may change the game. 
Expected to launch in 2020, the currency is already quite popular and some even credit it for the sudden hike seen in Bitcoin prices.
However, Facebook alone does not deserve credit for the hike. Bitcoin was already trading above $9,000 when Facebook officially unveiled Libra.
Nevertheless, mainstream media has held on to the idea that Facebook is uniquely fuelling the BTC price rise. Craig Erlam, a senior market analyst at Oanda, told The Guardian that this impression stems from the concept that Libra's publicity will directly affect cryptos in general. 
"Bitcoin has slowly – by its own standards – been rising in recent months, but the launch of Facebook's Libra has clearly been a catalyst for the recent surge,"
In addition, because of the increasing tensions in the Middle East, investors are once again turning to Bitcoin, which is looked at as a safe haven. Nonetheless, there is no denying the fact that Facebook's decision to enter the digital currency space has made more people take notice of this growing industry. 
There's renewed interest in Bitcoin
If you invested in Bitcoin at the beginning of the year, you'd be enjoying a profit of over 200%. Yes, this is how high the price has gone.
Experts believe Bitcoin will go beyond the $20,000 mark this time. Some even predict the coin to hit the $100,000 mark by the end of the year, however that may be a bit far fetched. 
More people appear to be searching about Bitcoin. There is renewed interest in the currency, which can result in more buying, thus a higher price.
Data gathered through Google Trend shows a growing interest in Bitcoin, which is a good sign for the digital coin. However, the number of searches for "bitcoin" is only 10% of what it was in 2017. 
Institutions taking the lead
Even though many are suggesting the prices will continue spiking due to retail investor FOMO (fear of missing out), it seems as if it hasn't started yet. It looks as if this time, the interest has shifted. 
According to CoinTelegraph, this time around, institutions are in the driver's seat, leaving behind retail investors. 
That's reflected by a spike in BTC futures contract, as released by Chicago Mercantile Exchange (CME) Group one week ago, reaching its peak on June 17. 
@filbfilb, a popular analyst on Twitter, predicts Bitcoin to hit a new high. According to his analysis, it is ready to "have its third monthly bullish MACD cross of all time."
Bitcoin is about to have its third monthly bullish MACD cross of all time.

Its worked out pretty well in the past. 😈 pic.twitter.com/5UtrPJPsGL

— fil₿fil₿ (@filbfilb) June 20, 2019
While we are not yet sure how high it will go, Bitcoin is clearly set for a good run.