Tether Seems Unfazed by Concerns and Moves Forward With TRON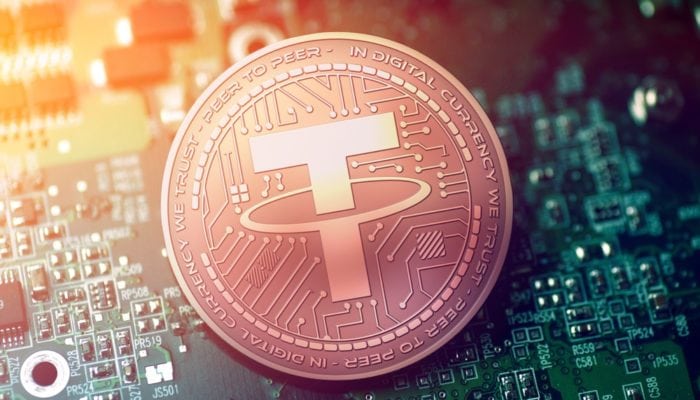 Stablecoin Tether (USDT) is under scrutiny again after appearing to change its proposition of a cryptocurrency backed on a 1:1 basis by the US dollar to being "100% backed" by a potential mix of assets. Tether's reserve backing, US dollar or otherwise, has never been fully audited leading to concerns over the backing and liquidity of the stablecoin.
The cryptocurrency Tether was launched in November 2014, emerging from an original project titled Realcoin. OmniLayer platform, a software constructed using the Bitcoin protocol, supports Tether.  The coin is a  stablecoin, so termed as it is "reserve-backed," meaning that unlike bitcoin which has no underlying asset, Tether has a more substantial reserve backing. Until recently, Tether operated on the basis that equivalent US dollar reserves backed each Tether coin. At the time of writing, Tether has a market capitalisation, or a portion of coins in circulation, of over $2 billion.
Fuelling earlier reporting, Tether's relationship with cryptocurrency exchange Bitfinex has been questioned. Both Tether and Bitfinex share the same CEO and CFO.  Tether was listed on Bitfinex in January 2015, and in November 2018 the US Department of Justice began an investigation as to whether Tether trading was used to support the price of bitcoin at its peak.
Despite Tether publishing a "transparency" page on its website with a summary of its accounts, critics have long doubted that Tether holds the equivalent balance of USD. After continuous pressure, the law firm Freeh Sporkin & Sullivan LLP publicly confirmed for Tether in June 2018 that it maintained the required US dollar reserves. Further saying that an official audit of Tether's accounts could not be obtained as large accounting firms will not take on cryptocurrency companies.
Without such an official audit, doubt has remained across the cryptocurrency sector. Moreover, Tether's market capitalisation has fluctuated over the concerns, affecting the broader cryptocurrency market and the emergence of new stablecoins. Tether also struggled to maintain its equivalent value with the US dollar. Its value fell under the $1 mark for some time in late 2018 before recovering.
The monopoly held by them is also being disrupted by the emergence of two other stablecoins pegged to the dollar. In September of 2018, Paxos and Gemini launched two stablecoins backed by the US dollar on a 1:1 ratio – the Gemini dollar (GUSD) and the Paxos Standard (PAX).  Both are based on the Ethereum blockchain using ERC-20 token standards, which enables full transparency of these coins.
Tether Now 100% Backed By "Currency, Cash, and Other Assets."
This month, Tether has drawn watchful and wary eyes again, suddenly changing its website that for years read: "Every tether is always backed 1-to-1, by traditional currency held in our reserves. So 1 USDT is always equivalent to 1 USD."
Now, instead of being "100% backed" by the US dollar, Tether is:
"(…) always 100% backed by our reserves, which include traditional currency and cash equivalents and, from time to time, may include other assets and receivables from loans made by Tether to third parties, which may include affiliated entities (collectively, "reserves"). Every tether is also 1-to-1 pegged to the dollar, so 1 USD₮ is always valued by Tether at 1 USD."
Analyst and critic's views vary. If Freeh Sporkin & Sullivan's confirmation proves of reserve backing, some question the coin's accounts since June 2018. Others believe Tether may have 100% backing but challenge the content of these reserves and their liquidity. The change in terms for Tether means that its stablecoin support could now be much more mixed. These reserves could potentially be more difficult to value, or harder for Tether to cash-in, should investors move a significant volume of their assets away from Tether.
Tether's legal counsel Stuart Hoegner responded to CoinTelegraph's request for comment confirming that Tether's reserve-backing does include cash, cash equivalents, and other assets. However, the balance in reserve is equal to, or greater than, the number of Tether coins in circulation. Hoegner says the change recent change in Tether's terms is a response to the changing stablecoin market.
Concerns Aside, Tether Has New Plans with TRON
Tether has formed this month a collaboration with growing blockchain TRON and the TRON Foundation. Tether (USDT) will, as of April, have three versions, one on the OmniLayer platform, an Etherereum ERC20 version, and the new USDT-TRON.
Tether will be issued and usable on the TRON blockchain network using the TRON TRC-20 protocol. The partnership is hoped to "minimise volatility" for transactions on, and for the use of the TRON blockchain, and "boost confidence" in the ecosystem; as stated by TRON founder and CEO, Justin Sun.
While Tether doesn't release an official third-party audit of its accounts, the community will continue to speculate. Carrying out the process will provide transparency and trust and decrease the consequences attached to the hundreds of millions of dollars being spent on Tether tokens.
The launch of newly reputable stablecoins has the strong potential to decrease Tether's monopoly and to provide an alternative. The pressure is on.