Pay for Your Hotel Stay Using Binance Coin (BNB)
Binance and Tripio have announced a strategic partnership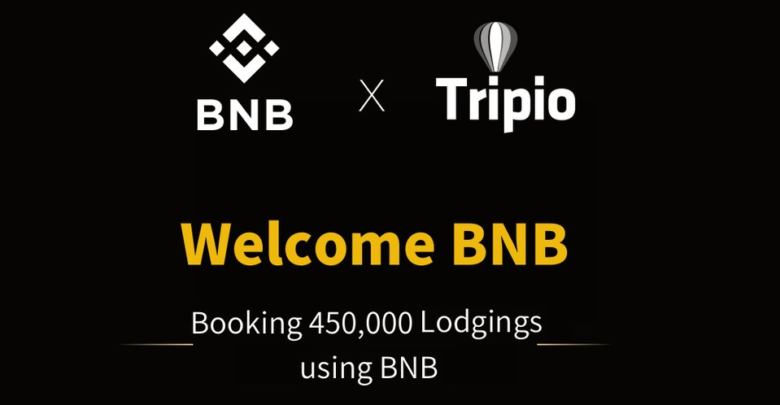 Seemingly untouched by the market's volatility and the growing scepticism around the sustainability of cryptocurrencies, Binance has made two announcements this week.
BinanceChain
The first was the announcement of the firm's public blockchain, called "BinanceChain". According to the CEO, Changpeng Zhao (CZ), the blockchain, expected to be launched in the coming months, will host "millions of coins and thousands of blockchains". He also said that users will be able to issue tokens via the service.
Book your stay with BNB
Binance and Tripio have joined hands making it easier for travellers to pay for hotels using cryptos.
The partnership would open BNB token to over 450,000 hotels, giving travellers the option to pick their favourite hotel and pay using Binance Coin (BNB) on Tripio's blockchain-based hotel booking platform.
【Breaking News】We are pleased to announce a strategic partnership with @Binance. From now on, more than 10 million users of Binance can make reservation for 450,000+ hotels worldwide using $BNB on Tripio. Thanks for the support of @cz_binance#blockchain #TRIO #Crpyto pic.twitter.com/A6kwgUsovO

— Tripio (@thetripio) December 4, 2018
Binance has been rumoured to be working on this plan for a while now. We first heard the news in March when OK Blockchain Capital, Node Capital, Ceyuan Ventures, GENESIS Capital, and  F2Pool joined hands and raised $20 million for Tripio.
The news was received very positively, and the Binance coin even surged by 20% as the news reached the market.
What do cryptos have to offer?
After a massive surge over the past year and a half, the popularity of Bitcoin and other cryptos declined most recently, and so did their value. In fact, many merchants also gave up on the idea of adopting cryptos, and several plans even came to a halt.
John Rainey, PayPal CFO, had spoken in detail about the issues related to crypto adoption, in particular, scalability solutions and price volatility. He said:

"Because of the volatility of the cryptocurrencies, the merchants saw swings in crypto that threatened the viability of their businesses. If you're a merchant and you have, let's say, a 10 per cent margin on a product that you sell and you accept bitcoin, for example, and the very next day it moves 15 per cent, you're now underwater on that transaction."
Despite the downfalls attached to cryptos' values, merchants are searching alternatives to traditional legacy systems or PayPal, mainly due to the high fees involved, and regardless of the higher security offered by them.
The attraction to digital currencies comes from its efficiency and lower costs when compared to centralized systems of payments. It is also seen as a better alternative as you can send huge amounts without having to worry about costs or delays. Also, the paperwork is largely reduced.
The public's reaction
The announcement of BinanceChain didn't come without controversy. A lot of crypto and blockchain enthusiasts have questioned CZ's declaration that the public blockchain will host thousands of coins and blockchain, while Binance itself has a strict listing policy. The question circulating is: what will be the selection criteria?
While this is just a small step towards merchant adoption, there's still a need for other big platforms to integrate cryptocurrencies. Indeed, cryptos are getting quite popular with each passing day. Binance is willing to take the lead, and we've been covering their initiatives, which range from using cryptos in their travels, such as BNB, BTC, LTC and ETH, and setting up a Binance Research Platform.
We recently talked about a high number of freelancers preferring to get paid in cryptos, mainly due to high fees from traditional financial institutions.
However, the question of volatility can't be left out. In the last 24 hours, Bitcoin plunged more than 11 per cent against the US dollar. On the first day of the month, the price had dropped 8 per cent. The general opinion is that the market is being driven by a "bearish trend', a "general negative sentiment towards crypto."
This may only represent a short-term trend, influenced by trade wars, fears of strict regulations and even a recession. It is a good test to see how digital assets perform against reserve currencies. In a world where we are still trying to conciliate fiat and cryptos, some say that these trends are bound to happen.
Final word
Binance's announcement can be seen as a positive trend in the midst of this global uncertainty. The adoption of cryptocurrencies by merchants may only come when users can use them to buy products and services, online and offline. 
In the current context, mass adoption of digital currencies may not be feasible at the moment, but we might be facing a different trend which doesn't entail an all-out replacement of fiat currencies, but a healthy co-existing situation where the consumer can choose the method of payment.