Stratis (STRAT) Partners With UK Meds
The Blockchain Company Enters the Pharmaceutical Industry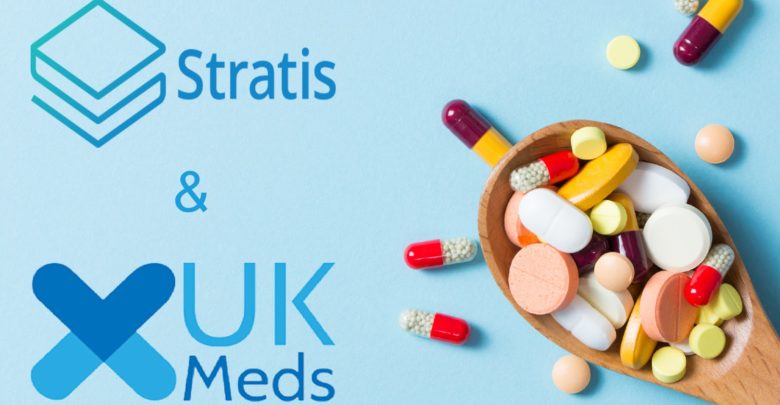 The provider of end-to-end solutions for development, testing and deployment of native C# blockchain applications, Stratis (STRAT), announced the partnership with the UK Based online pharmacy, UK Meds.
Stratis is Improving the Safety of Patients
As the fastest growing online pharmacy in the UK, UK Meds is handling between 3,000 and 4,000 patient prescriptions each day.
As such, the company emphasizes that the importance of safety of their patients is paramount.
Therefore, Stratis platform will be implemented in their system to, firstly, reduce instances of patients ordering multiple prescriptions.
Furthermore, by ensuring each patient's request for a prescription is stored on a shared and immutable distributed ledger across a group of UK online pharmacies, the programme ensures patients can only access prescribed quantities of medication.
"Doctors dealing with online consultations and pharmacies preparing medication will have the ability to cross-reference patients using a unique identifier assigned to each individual," reads the official announcement, and explains how any previous request for medication across all online pharmacies in the programme will be easily referenceable using Stratis' technology, ensuring that patients receive correct prescriptions.
Blockchain Put to Use Where it Really Makes a Difference
"Despite screening our own customers by IP addresses, phone numbers, cookies, and many other factors, there isn't a cross-industry solution to identify patients attempting to obtain multiple orders of drugs, with opioids being a particular example," commented Joe Soiza, CEO at UK Meds.
"Clearly our entire industry needs to come together to ensure we do everything possible to protect the vulnerable and utilizing Stratis' technology can help us achieve that. The Stratis Platform provides a highly secure blockchain solution that can be shared across the industry to provide a trusted and verifiable record of patient requests for medicine," he declared and added that his company has over 10 online pharmacies already onboard.
"It's our ambition for this to become the de facto standard across the entire UK industry," Soiza concluded enthusiastically.
The CEO at Stratis, Chris Trew, stated that this is an excellent example of blockchain being deployed where its unique qualities will make a real difference.
"Using traditional IT solutions to solve this issue would require a significant expense and would undoubtedly be administered by a third-party organization. With blockchain, the industry can cooperate on the critical issue of patient safety using a shared version of the truth," said Stratis' leader.
Stratis Blockchain Technology is Also Penetrating UK Meds' Supply Chain
According to Stratis' official website, their technology will also be utilized to enhance UK Meds' supply-chain.
By deploying Stratis' Smart Contracts in combination with track and trace logistics solutions, each shipment of medication will be logged on the blockchain when originally produced by the manufacturer, during points of distribution and again on arrival at UK Meds.
This will enable the company to certify that pharmaceutical shipments were correctly packed, arrived in good condition while remaining securely sealed in the correct quantity.
The pharmaceutical industry is known to be very lucrative, and now that Stratis planted their seed, the company has a more than fertile ground to expand across.
Related post:
Can Blockchain Put an End to All Pharma Related Concerns in China?