Nuggets Combat Chargebacks And Fraud During Covid-19 Via Biometric Contactless Delivery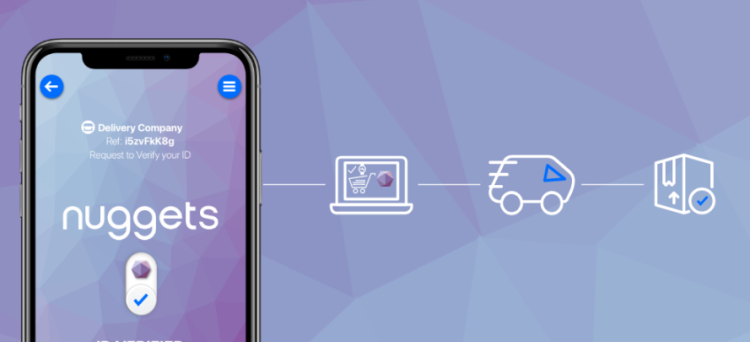 London, United Kingdom – 28 May 2020 – Nuggets, the leading digital identity and payments platform has today announced that their new biometrically-verified, contactless delivery technology will help retailers tackle mounting fraud and chargebacks fuelled by the Covid-19 outbreak.
With customers no longer having to sign for deliveries due to social distancing rules and retailers being forced to use new and unfamiliar delivery services, chargebacks are skyrocketing. Not to mention the costs of failed deliveries which are reported to be around £1.6bn (US$2bn) in the UK.
Nuggets uses biometric security protected by the blockchain to allow consumers to provide contactless proof of ID upon delivery. The award-winning solution provides an efficient and effective way to stop delivery-related chargebacks from happening in the first place, with Nuggets guaranteeing verified delivery of a package to the right recipient, essential for avoiding losses through fraud, chargebacks and returns.
E-commerce orders have increased significantly over the last couple of months pushing parcel volume to peak season levels. DHL has reported an increase of 36% in domestic volume and UPS daily volume is up by 8.5%. This is the new normal for retail and many leading parcel courier services in the UK are looking to implement Nuggets to solve this immediate issue of having to leave parcels on doorsteps – via a process that is both contactless and protected against fraud.
Couriers are able to complete a contactless delivery of a package, by pinging the customer's digital ID via the courier's app, requesting the biometric ID verification from the Nuggets app which then confirms the delivery, providing instant proof of delivery. End-users can already download the Nuggets app, available for iOS and Android devices, and retailers have the unique opportunity to easily integrate the Nuggets identity and payments platform into their checkout process.
For retailers, Nuggets provides an all-in-one solution that centres around a customer's digital ID, facilitating, access, payment, contactless delivery acceptance, and can even be used to verify reviews. Last year, the UK Competition and Markets Authority (CMA) estimated that online reviews potentially influence £23bn ($28bn) of UK customer spending every year.
Alastair Johnson, CEO & Co-Founder of Nuggets said: "Merchants are so overstretched with increased orders, staffing issues, and supply chain fulfilment problems that having to dispute chargebacks ends up at the bottom of the list."
"The combination of the astronomical costs facing our eCommerce businesses, from fraudulent chargebacks, to failed deliveries and fake user reviews, big savings can be delivered by having Nuggets integrated. With virtually no upfront investment, merchants can better manage their chargebacks spanning from COVID-19 and start safeguarding their revenues."
Nuggets' unique digital identity and payments platform provides consumers with a new way to keep their personal and payment information secure, enabling them to login, pay and verify their identities without having to store personal and payment data with anyone.
---
About Nuggets
Nuggets is an award-winning self-sovereign payments and ID platform, storing personal and payment data securely with blockchain, so users can login, pay and verify without having to share data with anyone.
Nuggets has received public backing from the UK Department for International Trade, The Mayor of London, and The City of London. Nuggets was the only consumer-ready blockchain company selected by the UK Financial Conduct Authority (FCA) for POC testing within their regulatory sandbox.
For more information please visit: https://nuggets.life/