Top 10 Blockchain and Crypto Events in Europe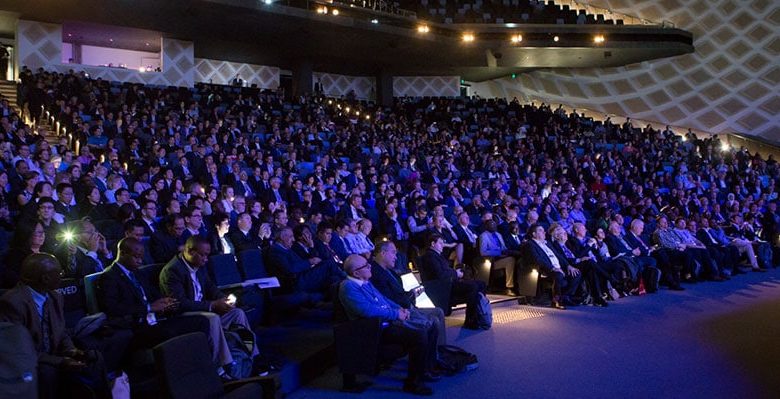 In the sea of information on blockchain conferences, it's sometimes hard to find the one that could meet all your needs. What is that key factor about the conference that is important for you? That the event takes place near your home? Or maybe you're looking to meet particular speakers? Or is it about developers at your company who need to learn from their colleagues' experience? The challenge here is to find the conference that will bridge the gap. This piece is meant for you to choose the right event and to find out more about top ten crypto- and blockchain events in Europe!
London
Wednesday, 26 September 2018, Olympia, Grand Hall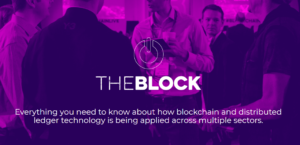 There are a couple of things to keep in mind about this particular conference.  
If you're an investor looking to find an interesting opportunity,  the "Start-Up Village" is for you because this is where developers will pitch their projects.  
If you're interested in cross-sector case studies, here you will learn from those who have already implemented blockchain in such industries as supply chain, management, and quality assurance.  
The icing on the cake, though, is Nick Szabo who will deliver, as the event website states, "unparalleled insight into the future and potential of secure and self-executing contracts." Other speakers include Llew Claasen, Executive Director of Bitcoin Foundation and Brendan Blumer, CEO of Block.one.
It's worth mentioning that the huge panel of sponsors numbers giants like IBM, Lisk, ZenCash, PwC and so on.
All access passt: £600, buy here.
Warsaw
Mon-Tue, 1-2 October 2018, The Westin Warsaw Hotel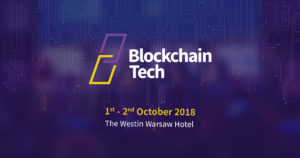 This is the first Blockchain Congress of this scale in Eastern Europe, counting mostly with speakers from Poland and Europe. Therefore, if you live in Eastern Europe and want to know more about how blockchain can affect your industry, this event might be for you.
Experts will touch on several topics such as: Are Polish companies ready to implement blockchain? What is the value of the blockchain implementation for the company? Extortion and fraud on the crypto-currency market – how to be protected from them?
Do you need answers to all those questions and some more?
Then you have found the right place! Go and listen to Manuel Machado, Member of the EU Blockchain Observatory & Forum, Global Head of Blockchain Solutions at Worldline, Krzysztof Piech, CEO of Polish Blockchain Technology Accelerator, Magdalena Gołębiewska, Head of Eastern Europe, Luno and many others to discuss blockchain challenges!
Price for business: €536, buy here.
Dublin
Tue-Thu, 2-4 October 2018, Aviva Stadium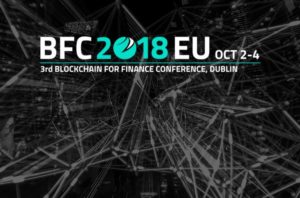 The Blockchain for Finance in Dublin is tackling some very important issues.
The sessions proposed range from a discussion by experts on achieving a common set of standards for DLT, digital identity and KYC, asset management, and cross-border payment to blockchain auditing.
Participants can expect heavy-packed sessions with high-level speakers. Among them, there will be Mariana Gómez de la Villa, Global Program Manager Blockchain at ING, Barry Childe, Head of Distributed Leger and Crypto Technology, and Ken Marke, CMO at B3i.
Deloitte, Arthur Cox, Barclays, and IDA Ireland will also be present to represent the financial sector, in an event dedicated to finance and technology professionals working to commercialise DLT.
On-time Premium Pass: €995, buy here.
Paris
Wednesday, 10 October 2018, Palais Brongniart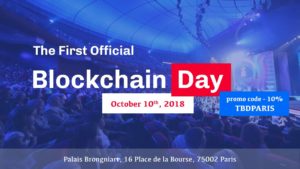 The Blockchain Day is set to become the major event in France, as they kick off their tour in Paris. We can expect The Blockchain Day to happen in Singapore, Toronto, and Capetown as well, as they establish themselves as an important player in the industry. The event is dedicated to investors and CEOs, geared toward business innovation.  
The day is packed with exciting panels in different formats to keep things dynamic. Polymath, NKB Group and Huobi Token will open the day on a Round Table entitled "The Cold Hard Truth Behind ICOs," exploring their roadmap to success, revealing key marketing, legal and development aspects critical to an ICO.
In the afternoon, Slock.it and MoneyTrack will delve into how blockchain has disrupted industries, and share the stage with gaming companies that applied blockchain, such as Pixowl and GamerToken. The day will be packed with innovation, expertise and real case scenarios. The aim is to bridge the gap between dream and reality, so the topic of ICO regulation in Europe could not be left out.
3 pitch sessions will take place throughout the event, where startups will present their projects to the participants and the jury, and the ICO Awards will be at the end of the day. The deadline for the applications is September 20th.
Check out their website for further news and more information on speakers and sessions. For tickets, buy here.
Malta
Thu-Fri, 1-2 November 2018, Casino Malta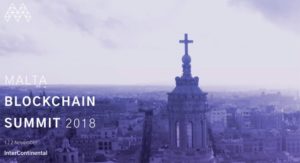 Malta itself is always the reason to visit it. But this time one can combine sightseeing with strategic networking — the tour through the ancient city Mdina is included in the agenda of the summit.  Why not debating Maltese Blockchain regulation on the road?
While the first day is dedicated to developers taking part in Hackathon and startups lining up for an award, the second day will start with a speech from the Maltese Prime Minister, Joseph Muscat. It will be followed by the "Battle of Jurisdictions," and right after, Ronald Attard will talk Malta Attractiveness for Blockchain.
The following day will be packed with exciting keynotes. Speakers will touch on the use of smart contracts in dApps development,  marrying AI to the Blockchain and, honestly, much, much more.
On-time ticket: €129, buy here.
Athens
Wed-Thu-Fri, 14-16 November 2018, Divani Caravel Hotel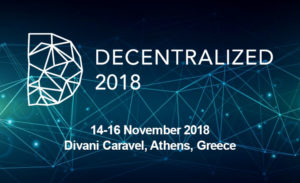 Decentralized will take place over two days, covering topics such as GDPR, ICOs, regulation, payments, and blockchain in the public sector. Not only is the lineup of participants substantial, but the networking method is subject to a lot of attention.
Participants can download the app, where they can access a detailed list of who's in the event and always be informed about the latest meetings. Speakers include Jameson Lopp, Founder of Mensa Bitcoin SIG, Garrick Hileman, Blockchain & Research Associate, Cambridge, and Eva Kaili from the European Parliament.
Their mission is to "exchange knowledge and ideas on the innovative business and political implications of blockchain technologies."
Corporate ticket: €599, buy here.
Oslo
Fri-Sat, 16-17 November 2018, Radisson Plaza Hotel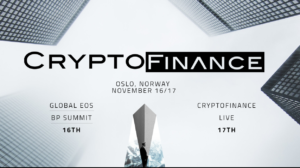 CryptoFinance is set to be a big event given that it is the only blockchain conference of this scale in Norway. The topics announced are blockchain, artificial intelligence, space technology, and virtual reality.  
According to the website, "CryptoFinance will be showcasing EOS Block Producers from around the world giving insight into what is required to be a BP in a 3rd generation blockchain ecosystem".
Speakers will include Robert Viglione, Co-Founder of ZenCash, Colin Cantrell, Founder and Chief Architect of Nexus Earth, Vít Jedlička, and the President of Liberland.
Tickets: $97, buy here.
Berlin
Mon-Wed, 19-21 November 2018, Steigenberger Hotel Berlin

Berlin in itself is a very nice place to visit, and this conference would be a great reason why.  
The speakers will cover topics everybody buzzes about these days. Christian Wirth from IBM will talk Privacy and GDPR compliance,  Andrew Kennedy from Cloudsoft Corporation Limited will report on his experience building a blockchain platform on top of Hyperledger Sawtooth and Seth.
Honestly, if you're into Hyperledger in general, you will hear a lot of insights from people who have already implemented this technology into their products.
3-Day Pass: €899, buy here.
London
Wednesday, 21 November 2018, 8 Northumberland Avenue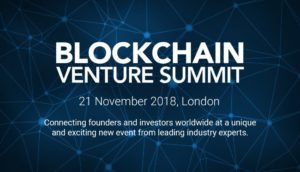 The Blockchain Venture Summit is primarily focused on the current situation at the cryptocurrency markets rather than connecting investors and entrepreneurs. It's the second episode in the series that started in Istanbul this March.
If you're a blockchain or cryptocurrency startup, you can use the option that is called "Startup Lounge," which will come with a stand. Also, you'll get two complimentary conference tickets for your team & company highlight on our event website. Honourable speakers include Adi Ben-Ari, CEO of Applied Blockchain/Fern, Anti Danilevski, CEO of KickICO and George McDonaugh, CEO of Kryptonite1 (KR1).
Super Early Bird Ticket: £500, buy here.
Basel
Fri-Sat, 23-24 November 2018,  The Congress Centre Basel

We're closing up our review almost at the end of the year and with the highest ticket price on the list.
This event is the continuation of the previous one, and it is indeed overwhelming. To give you an idea, one of the speakers at the previous conference was Dr. Sergey Glazyev, the advisor of the Russian president Putin. The objective of the coming event is to unite blockchain with what they call on their website "whales of the fiat world."
Part of the agenda is the multi-disciplinary PwC Legal team that'll provide a comprehensive workshop addressing setting up blockchain business in Switzerland. The experts will cover tax, regulatory clearance approval/licensing with Swiss regulator FINMA and will be available for Q&A.
Speakers include Jeremy Light, Vice President at Ripple; Robert Levin, CEO at Emerging Star Capital, Technology Pioneer of the World Economic Forum; Prince Michael of Liechtenstein, Chairman of Wealth Preservation Experts and Chairman of Geopolitical Intelligence Services AG; etc.
Business Ticket: €1400, buy here.