PwC Releases Report on Blockchain
Will it Rule the World?

PwC is out with a new report on blockchain, and there appears to be some good news. Here are the key findings:
About 84% of companies are involved with the technology in some way.

About 45% of companies believe that a lack of trust in the technology could cause a delay in adoption.

About 1/3rd of companies consider China as a growing market leader.

About 28% believe that system interoperability is the way to success
More About the Report
The global survey consisted of 600 respondents from 15 countries including China, India, Sweden, Africa, and America.
Only 14 percent of businesses are said to have no involvement in the blockchain. A total of 32% are working on developing a blockchain-based product while 15% are already live.
However, a small number – about  7% – has stopped at one of the stages and may not pursue it any further, most probably due to a lack of regulatory uncertainty, which also causes a lack of trust in the technology. There are also some intellectual property concerns coupled with possible compliant issues.
The technology is being appreciated in all corners with the finance industry appearing to be ahead in the race with an astounding 46%. Industrial products and manufacturing, as well as energy and utilities, are both at 12%, leaving quite a significant gap between them and the key industry leader. However, despite difficulties, other sectors such as healthcare, government and retail are also moving well towards the adaption of the technology, with 11%, 8% and 4% respectively.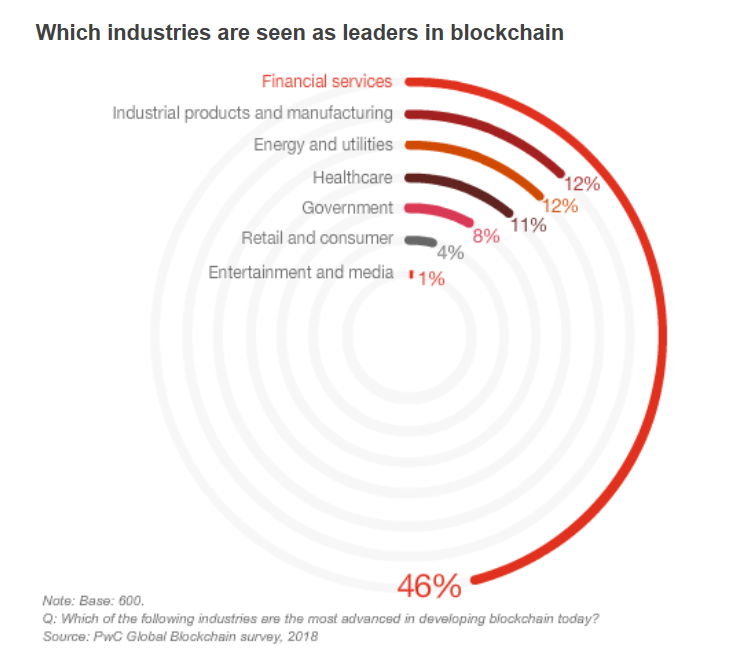 Even though this percentage for the finance industry is high, it has suffered a significant drop compared to 2017. According to PWC, 82% of "reported blockchain use cases were in financial services in 2017." This can be attributed to the growth of potential blockchain application in other industries, directly linked to the increase in awareness of the disruptiveness and innovative characteristics of this technology.
More Trust in China
According to the study, about 30% of respondents believe that China will dominate the industry in the next few years, with only 18% showing support for the U.S.
This is a bit surprising considering China appears to be confused regarding cryptos. However, it should be mentioned that the country has backed blockchain based products, and seems to be doing a good job of keeping crypto and blockchain apart.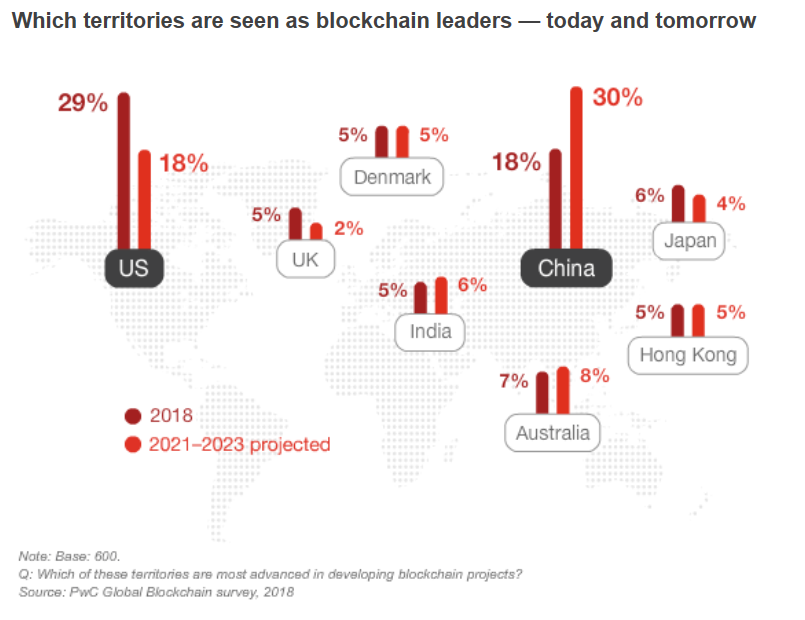 Market Value to Hit a New High
The report predicts the market value of the industry to hit the $3 trillion mark by 2030. The survey also pointed out asset tokenization and ICOs as an essential part of the technology as ICOs bring a considerable amount of money to the industry and also help attract new players.
The report said: "It's possible to imagine that 10% to 20% of global economic infrastructure will be running on blockchain-based systems by 2030."