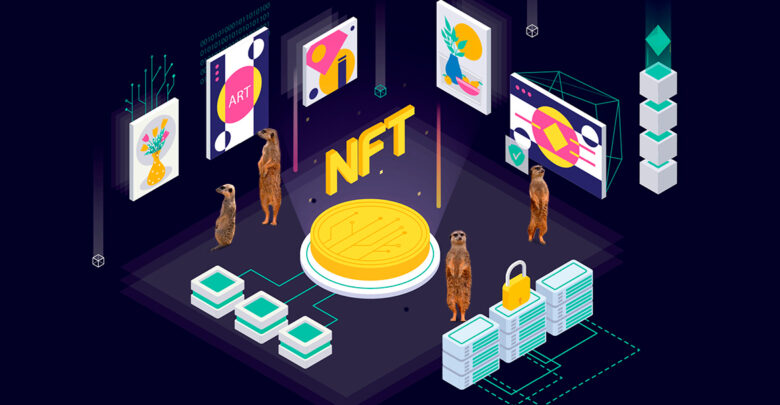 A quick introduction to NFTs & NFT Marketplaces
Web3 technology represents a tremendous shift in consumer behavior – with digital asset ownership unlocking limitless possibilities for innovation. Fueled by the principles of decentralization and built upon blockchain technology, Web3 is changing the way that people interact in digital mediums. NFTs are a huge fundament of this movement.
NFTs represent digital proof of ownership and verifiable transaction history that is stored on a public blockchain. The exciting thing about NFTs is that there are use cases across nearly every industry, from event ticketing to vehicle maintenance history to supply chain management, the opportunities are boundless. For brands, NFTs present a new era of possibilities to better connect with your audience and consumers by creating improved loyalty programs, building communities around your brand, and expanding your brand to the digital world.
But, where are NFTs headed?
NFTs saw explosive growth in 2021, sales topped $17.6 billion, a more than 200-fold year-on-year increase. However, this growth hasn't been consistent and has levelled off so far in 2022. Nevertheless, according to a recent Markets and Market research, the NFT market is expected to have a 35% increase by 2027. This means that the existing $3 billion (USD) market size will reach $13.6 billion (USD) by the end of that year – if the interest among investors continues to grow.
The interesting fact is that NFTs are concentrated in the hands of a few "whales". Between late February and November 2021, there were 360,000 NFT owners holding 2.7m NFTs between them. Of those, only about 9% — or 32,400 wallets — held 80% of the value of the market, Chainalysis found. As demonstrated, non-fungible tokens are still in their early days, in order to prosper and welcome widespread adoption, the NFT ecosystem will require more robust end-to-end solutions and increased awareness and understanding about how NFTs can be used to improve businesses.
In spite of the lack of knowledge, both entrepreneurs and firms as wide-ranging as art, sports, retail, entertainment, music, fashion, and more have begun actively exploring ways to unlock experiences, engagement & utility for their end consumers through NFTs.
While some entrepreneurs and businesses have opted to launch their experimental collections on traditional open and curated NFT marketplaces, some have found that building a self-owned NFT Marketplace is more feasible.
The three main types of NFT Marketplaces and its differences
Although various options exist, currently there are three major types of NFT marketplaces that are dominating: open, curated, and self-owned NFT marketplaces.
Open and curated NFT marketplaces let you sell through it alongside others, while self-owned is built for, well, only you. Let's put it in a nutshell:
#1 Open NFT Marketplace
Open NFT marketplaces like OpenSea or Rarible give access to anyone to mint, buy, or sell NFTs. They support all types of NFTs, from music, art, virtual world assets to any other type of non-fungible tokens. Currently, theNFT space is dominated by this type of marketplace.
In simpler words: Selling in open NFT marketplaces is like having a spot in the local supermarket. The traffic is high and you still get sales, but most of them aren't looking for your business in particular.
#2 Curated NFT Marketplaces
Curated NFT marketplaces like SuperRare, Nifty Gateway, Foundation, or KnownOrigin are more exclusive and decide by themselves which NFTs they allow to be minted and auctioned. NFT creators have to fill out applications to be accepted on such platforms.
In simpler words: Slightly differently, selling your digital assets in a curated NFT marketplace is like having a corner in a gourmet store. People coming in are just looking for exclusive products, but they are not in quest of your brand specifically.
#3 Selft-owned NFT Marketplaces
They are the most restrictive and only permit displaying NFTs that are minted by the marketplace itself. Because of limited supply, such marketplaces usually witness high demand. An example of a self-owned marketplace is Fanlive Cards, a NFT platform dedicated to rugby. In opposition to open and curated marketplaces, the self-owned platform allows you to develop your own unique brand identity.
But, how can I build my self-owned NFT Marketplace?
Before building your self-owned marketplace you'll need to consider two critical factors: time and budget. How much time and money are you willing to spend on your NFT marketplace? Depending on the answer you will need to decide between two of the most common methods available. You can build your NFT Marketplace from scratch or get a white-label NFT Marketplace solution.
Option #1: Develop your Marketplace from scratch
In order to develop your own marketplace you will absolutely need a complete in-house technical team with tons of coding and blockchain experience, or a reliable freelancer or agency that is up for the challenge. If that is something that you are willing to invest in, then this might be the go-to option.
Building your own platform from scratch will grant you the freedom to build the features of the marketplace however you please. In spite of that, the trade-offs here are time and cost.
Complexity is another factor, trying something new always requires a lot of trials and tests, while errors are inevitable.
Option #2: Get a white-label NFT Marketplace solution
The term white-label means purchasing a ready-made product to customize and promote it as your own. Developed and perfected over time to meet a specific demand, a white-label NFT marketplace already has the fundamental features. This allows you to eliminate all the unnecessary complexities and fees, in order to have full control over your NFT sales.
While often, white-label solutions are mistakenly confused with standard solutions, that is far from reality. As the name suggests, a white-label solution is white as a sheet, left blank for you to adapt it into anything as per your strategic and business needs. You can freely customize every aspect of the marketplace's UX/UI to portray your brand characteristics.
What's the even better part? Your tech provider can develop any extra features that you desire so you can enjoy a NFT platform that is fully customized for your brand and in line with your business requirements.
Working with a third-party tech provider is therefore the simplest and most cost-effective option. Simple because it is a business-ready solution that will generally cover all your needs; and cost-effective because it has been already developed, thus it will allow you to launch your NFT Marketplace for a fraction of the price compared to building from scratch.
Into the bargain, choosing a white-label solution is a very new and innovative approach, only a few companies offer this type of solution. Hence, it can give you the ability to outperform your competitors.
For your guidance, here's a simple comparison table of the 2 methods to help you find your best fit.
Key features to look for in a white-label NFT marketplace solution
There are a number of factors you need to take into account when choosing the marketplace most suitable for you, including:
Wallet compatibility
Make sure the marketplace you choose offers an integrated "native" wallet, which supports multiple payment options (crypto and fiat), and that it is easy and convenient to use so you can target both buyers: the newbies and the crypto-savvys.
Security
Choose an NFT marketplace that offers adequate security measures so that you are always protected from fraudulent activities and hacks. This must include security measures such as two-factor authentication (2FA) and advanced encryption for instance. What's more, the ownership of any NFT is linked to a wallet public key. A Private Key secures the wallet like a PIN. It must be kept private at all times. If a private key is compromised to a third party, cryptocurrencies or NFTs in a wallet can be stolen. Therefore, choose a marketplace that offers a native, but also non-custodial wallet for enhanced security.
Customizable storefront
Choose an NFT Marketplace that allows you to capitalize on your brand with a fully personalized user interface that will contribute to positive user experience, enhancing business and maximizing revenue opportunities.
Optimized user experience
It is in the best interests of an NFT marketplace to ensure that both sellers and buyers have a seamless user experience and can easily navigate through the many categories and collections, just like an optimized e-commerce website. All the important information such as the list of available NFTs, their price, the number of orders, owners, and history must be clearly displayed.
Different selling methods
A marketplace should allow you to decide on the selling method that you want to offer your clients from fixed price sales to auctions. It should also allow you to offer secondary market trading (i.e. users to users).
Gas fees
A marketplace should work towards reducing the inconvenience of gas fees: by shrinking the price or offering lazy minting. FYI, lazy minting allows you to avoid paying transaction fees in order to mint NFTs that won't be sold at the end. You will only pay transaction fees once a user has bought your NFTs.
Admin panel
A platform that allows you to create and manage tokens, to track your customer base, to get all analytics required to take business and strategic decisions about your marketplace.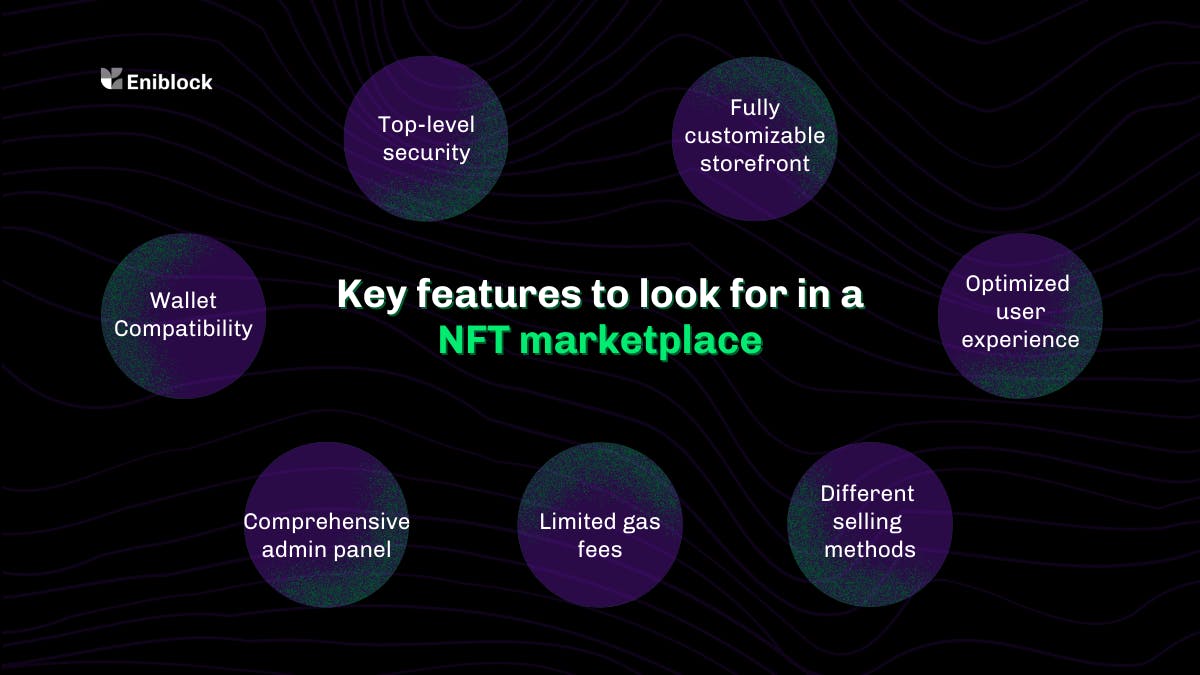 Now that you know what are the different types of NFT Marketplaces, its must-have features and the best way to develop one, what are you waiting for to jump on the bandwagon?
If you already have an awesome NFT use case idea and need a strategic partner, check out how can Eniblock help you develop your tailor-made NFT marketplace.