æternity's Starfleet Blockchain Accelerator Names 4 Blockchain Startups It Will Fund In 2019
Despite the crypto market's long downturn, æternity Ventures continues to invest in its ecosystem with the first batch of startups in 2019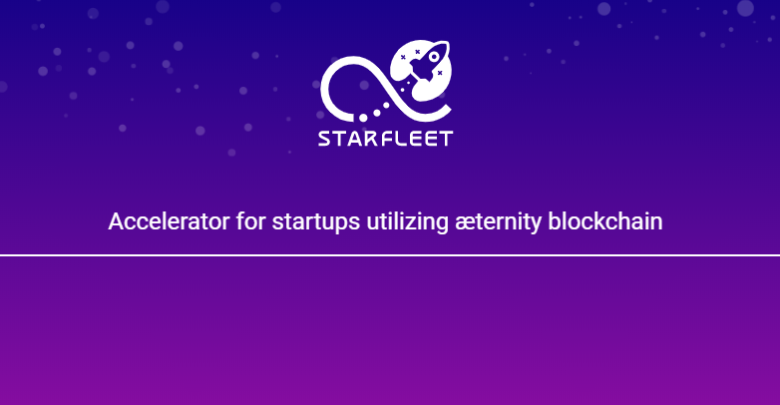 Sofia, Bulgaria – 17 April 2019 – æternity Ventures, the investment arm of decentralized smart contracts platform æternity, has successfully concluded the first round of their 2019 Starfleet initiative by selecting four blockchain startups it will fund and mentor through its accelerator programme.
At a time when few investors or VCs are committing funds to the market, the Starfleet accelerator programme continues to make long-term venture investments having successfully supported 9 seed stage blockchain startups in 2018 with a total investment of $1.3m investment.
The four teams chosen for the first round of the 2019 programme were selected from eight finalists, ranging from a ticketing provider to a trading card game company. They impressed the judges, made up of leading crypto experts, VCs, funds, media and blockchain enthusiasts with their potential to scale, the strength of the team, the clarity of their business idea and their fit with the æternity blockchain.
"When we founded æternity Ventures, our mission was to enrich the blockchain space and ensure that the ideas worth hearing could be heard," said Nikola Stojanow, CEO of æternity Ventures and CBO of æternity. "It's still a nascent business, but we're thrilled to be able to collaborate with new teams and continue to educate and invest in companies on the bleeding-edge of this new technology."
A staggering amount of applications were received from around the world – perhaps most notable was the increase in applications from Africa-based blockchain startups, no doubt a direct result of the hard work put in by æternity's African Hub in educating businesses via hackathons and meetups. Also represented were a number of German startups, as well as some promising projects from the Balkans, thanks in part to the recent launch of æternity's co-sponsored 'Blockchain from the Bloc(k)' podcast.
The eight finalists were selected during Genesis Week in March, and after four weeks of mentoring and daily workshops with æternity's team, four blockchain startups successfully secured funding offers and mentoring those projects were
Almost everyone has experienced the disappointment of failing to get tickets for their favourite band, either because of a poorly managed ticketing system or the efforts of professional ticket touts. For event organisers, the frustrations are exactly the same, with no standout solutions for ensuring their tickets get the real fans they want them to. Step forward, Abend from Germany, which enables event organisers to do away with a flawed model for distributing and verifying tickets, in favour of a cashless and vastly more secure digital offering. Its Beta will be launched in the next two months.
Digital collectables are one of the most talked about use cases for tokens and cryptocurrencies. Malta-based trading card game company, Crypto Legends, is building momentum with its trading card game, where collectable cards (depicting various heroes) can be traded on an open market and used across games. Each legend/hero brings a piece of a unique story and you can collect the right ones for your party, pieces of ancient scriptures and engage in legendary tournaments.
Through platforms like Fiverr and Upwork, freelancing has already been transformed by the internet economy. However, blockchain networks can provide a new wave of security and functionality, with stored work histories, better tracking for distributed projects and lower transaction costs. Croatian-based, Cryptotask is a decentralized task-oriented blockchain platform looking to disrupt current systems via blockchain. One key innovation it is introducing is a reviewer board selection mechanism which includes an escalation option.
With companies such as SpaceX aiming to put thousands of new satellites in space over the coming years, the possibilities that will be enabled by this new data are unimaginably large. Homeport, is an ambitious Bulgarian-based project working towards the efficient collection of satellite data. From earth imaging and atmospheric data to broadband internet and maritime communications, all through a decentralised global hub built atop the æternity blockchain. With an innovative system of smart contracts, Homeport is an open marketplace for data storage and ground station capacity.
Zdravko Dimitrov, founder of Homeport said: "The Starfleet Blockchain accelerator was an awesome experience. We advanced our product significantly, stepping up what we did during incubation, and we're now ready for lift-off. It was an invaluable growth process for everyone involved."
A special community award was presented to Cryptic Legends by Mattia Martinez – Manager House Of Blockchain, who flew in for the event from Liechtenstein. They were voted the most popular team among the community online votes.  In addition, the æternity team presented all teams with a sum of 10,000 ae tokens which will be distributed according to the online vote.
All projects will be built on the æternity Blockchain that combines decentralized oracles, a naming system and state channels for private and instant transactions. It aims to become the blockchain network of choice for everything from small projects to large businesses' backends.
"Congratulations to the æternity Ventures team for another successful edition of Starfleet accelerator and for selecting four high quality projects with a potential to disrupt industries on a global scale. Their contribution will have a meaningful impact on the entire ecosystem and I am excited to see them develop and thrive on the aeternity Blockchain," concluded Yanislav Malahov, æternity's founder and visionary.
For more information
Cryptoland PR for æternity
Katie Olver
US: 866–586–5603
UK: +44 020 3908 5686
About æternity
æternity is a public, open-source, blockchain platform offering means for a decentralized future realized by a global community. Blockchain inherently has the disruptive potential to support distributed wealth and transparency in power structures. æternity's founder, Yanislav Mahalov, has roots as the "Godfather of Ethereum" – but wanted to improve the core idea and technology proposed by that project to become the blockchain which decentralized applications are built upon. æternity aims to solve problems of scalability, security, be more economical, and user-friendly when it comes to accessing the smart contracts on the network. They see a route to achieve this by moving the contracts off-chain. æternity's 3 main features are State Channels, Consensus Mechanism, and Decentralized Oracles.
About æternity Ventures
æternity Ventures is аn asset management company investing in Blockchain startups at every development stage. The company is part of æternity Blockchain and also operates the æternity Starfleet Accelerator Program for Blockchain startups.