Opera Enables Direct Bitcoin Payments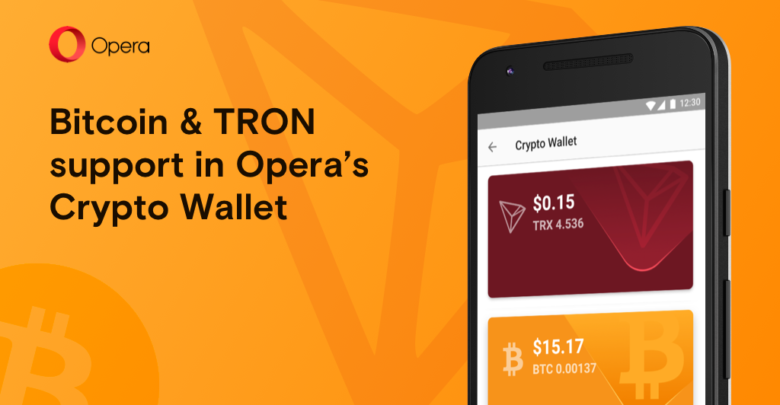 Opera recently became the first major web browser to introduce a feature that will allow users to make payments with BTC directly inside the web browser. 
This is quite a significant development as no popular browser has made the move yet.
The platform is used by over 350 million users and is available for all major operating systems.
More About the News
According to a press release, users will be able to send and receive Bitcoin directly from Opera. In addition to this, they will also be able to use Bitcoin to purchase goods and services on e-commerce platforms. 
Moreover, users will also have the option to add a TRON and Bitcoin card into Opera's Crypto Wallet. It will make it easier to keep an eye on the currencies owned. 
Opera appears to be targeting crypto users with this move. One of the company's representatives spoke about the latest developments at the launch event:
"We believe that opening our browser to more blockchains, including Bitcoin, is the logical next step to making our solution more relevant to anyone who has a Bitcoin crypto wallet and would like to do things with their cryptocurrencies beyond just keeping them in an account."
Months of Planning
Opera introduced this new feature in a Beta version released in the first quarter of 2019. It took months of planning and development to make this a reality.
Opera has been in the news for developing new content related to blockchain and digital coins. It has also shown interest in Web 3.  The company introduced Opera Touch, a version designed for iOS, which supports a Web 3 explorer, Ethereum Web3 apps, and Ethereum protocol. 
The browser currently enjoys a market share of 3 per cent, but with these major changes, it expects to be a top player in the game.
The company intends to offer users a safe and reliable way to use cryptocurrencies. However, we're not yet sure what kind of numbers these developments will result in.
But, if the success of Brave, a well-known crypto-powered browser, is any indication, we may soon see a jump in Opera's market share.
---